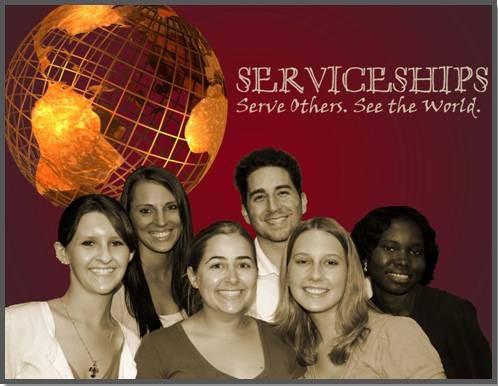 Dustin Daniels
Agency: Global Peace Exchange (GPE) working with Umuryango
Location: Gitarama, Rwanda
Major: International Affairs and Economics
Reflection: "It was quite refreshing to hear the enthusiasm of both the students and Rwandan volunteers. The service aspect of my project is probably the most important to me. By instilling a culture of serving among the university students, I hope to further enact change for many years to come, long after my project is finished."
Patience Kaysee
Agency: Youth Action International
Location: Monrovia, Liberia
Major: Political Science and International Affairs
Marie leBlanc
Agency: Center for Cultural Exchange: Mom's Soup Kitchen
Location: Bueno's Aires, Argentina
Major: International Affairs and Spanish
Reflection: http://citizenmundial.blogspot.com
Krista Marham
Agency: Institute for Field Research Expiditions
Location: Capetown, South Africa
Major: Social Work
Reflection: http://www.travelblog.org/bloggers/kristamarkham
Danielle Reed
Agency: Olancho Aid Foundation
Location: Somoto, Nicaragua
Major: Elementary Education
Reflection: "If there is one thing I have learned here in Nicaragua it is that, You must be the change you wish to see in the world." - Mahatma Gandhi. I've seen a lot of change this summer; in my heart and in the hearts of others. How could I go home and never look back? I will always have this experience to remind me that service to our brothers and sisters is the best use of a life."
Erin Welch
Agency: Maryknoll Lay Missioners
Location: La Libertad, El Salvador
Major: Music Therapy
Reflection: http://ekc90w.wordpress.com