About
The Center for Leadership & Social Change invites students to engage in dialogue with dynamic FSU faculty, staff, and community members. Topics for dialogue encompass identity, research, and current events. Each installment of the series runs from noon to 1:30 p.m. and provides lunch.
Upcoming commUNITY Dialogues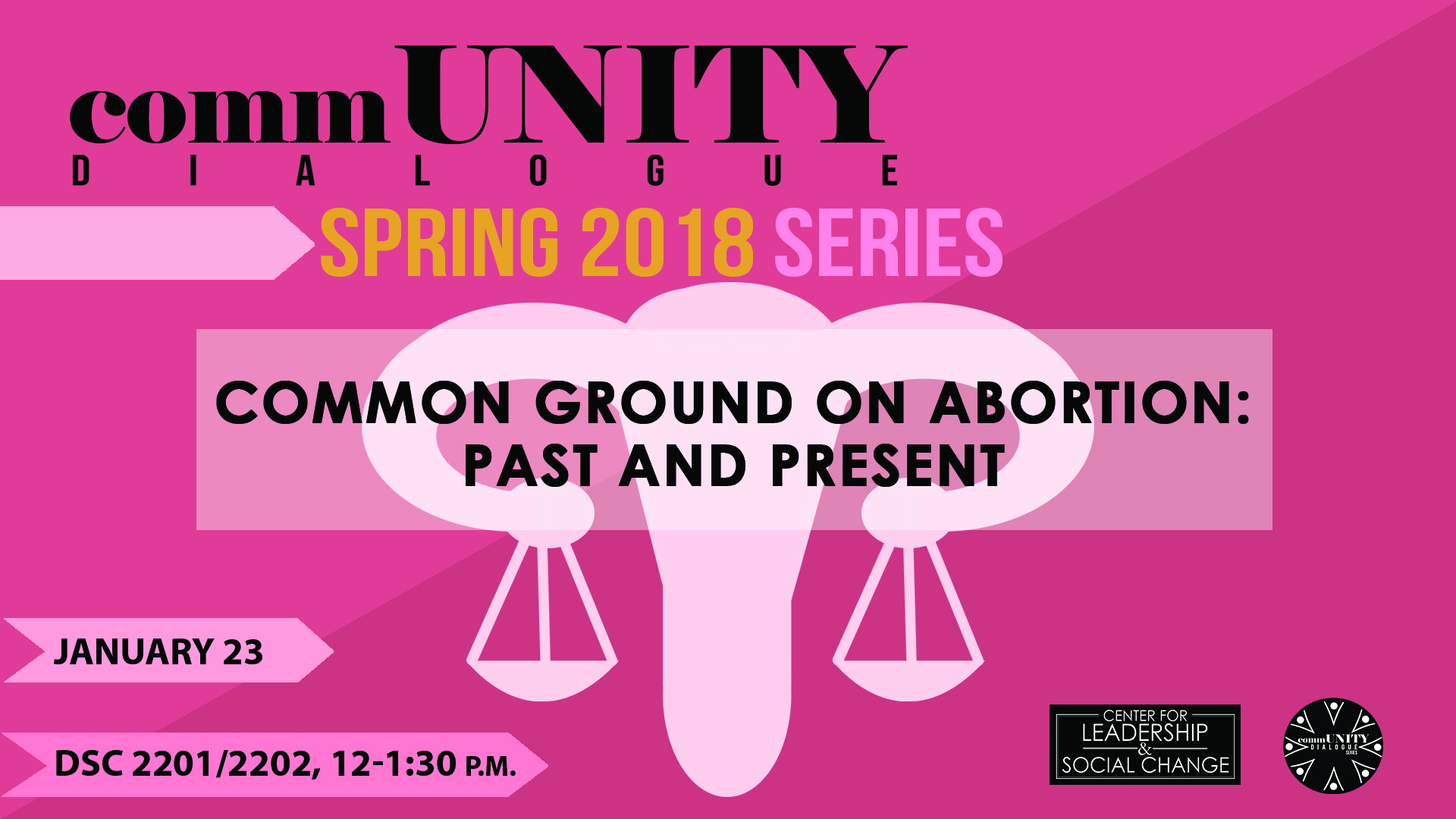 Common Ground on Abortion: Past and Present
Mary Ziegler, Stearns Weaver Miller Professor at the Florida State University College of Law
Tuesday, Jan. 23
12-1:30 p.m.
DSC 2201/2202
Is compromise possible on abortion? The issue has become a wedge issue in national politics, a deciding factor in the nomination of Supreme Court justices, and the most visible front in the American culture wars. Historian and legal scholar Mary Ziegler examines the history of the abortion debate to explore the ways in which advocates on either side of the abortion battle once sought common ground on issues from pregnancy discrimination to fetal research, showing how a diverse range of views hardened into "pro-choice" and "pro-life" categories in response to party politics and strategic decision. When and why was it no longer possible to find common ground? Are the middle-ground solutions still available? By addressing these questions, this dialogue asks how we got where we are today and where the abortion debate might take us next.
Speaker Bio:
Mary Ziegler is the Stearns Weaver Miller Professor at the Florida State University College of Law. Her first book, After Roe: The Lost History of the Abortion Debate, was published by Harvard University Press in 2015 and won the 2014 Harvard University Press Thomas J. Wilson Memorial Prize for best first manuscript published by the press in any discipline. Her second book, Beyond Abortion: Roe v. Wade and the Right to Privacy, will be published by Harvard University Press in the spring of 2018. Her more than 20 law review articles have appeared in leading journals, and she has served as a commentator for or been quoted in leading mass media outlets, including The Atlantic, the New Republic, The New York Times, and The Washington Post. She has also received recognition for her work in the classroom, including the 2016 Florida State University Teaching Award and the 2015 Transformation Through Teaching Award.
Attending a dialogue
You will receive a confirmation email the Monday before the event. 
Parking: If you will be joining us and do not have access to on campus parking, please park in the visitor's lot and walk over from the stadium. Parking is $1 per hour with a maximum of $5 for the day. Please see here for more information:  https://transportation.fsu.edu/parking/visitor
Contact
If you require any special accommodations to attend the event or have any questions, please email Steve Mills at smills@fsu.edu