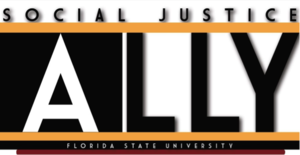 Mission
The mission of the Social Justice Ally Training program is to educate members of the Florida State community about issues related to social justice in order to develop allies who will promote an equitable and inclusive environment and serve as social change agents in a diverse and global society.
Goals
Social Justice Allies will determine effective strategies related to combating social justice issues by:
Developing an awareness:

of key concepts related to social justice, diversity, and oppression
of social justice issues, including racism, classism, religious oppression, sexism, heterosexism, gender oppression, abelism, ageism and adultism, and xenophobia;
of how systems of oppression have impact U.S history

Developing knowledge of self and others by:

recognizing how the Cycle of Socialization has contributed to our understanding and beliefs associated with various social issues
being aware of social group membership and Identifying dominant and subordinated identities

Using action towards becoming a social justice ally by:

understanding that social justice is a goal and a process
demonstrating an understanding of ally identity development
displaying a commitment towards continuing education related to ally identity development
Holding self-accountable for conscious and unconscious behaviors that harm target group members
REGISTRATION
Individuals who register must be able to attend both days of a Social Justice Ally Training session. Registration is required for all training. In order to provide the highest quality training, registration is limited to 15 people.
Session I:
Feb. 17 & 22
1-4:30 p.m.
DSC 2202
Session II:
April 17 & 20
9 a.m.-12:30 p.m.
DSC 1006
Session III:
June 5 & 9
9 a.m.-12:30 p.m.
Globe 3500