The President's Undergraduate Humanitarian of the Year Award is a prestigious award that recognizes students who exhibit tremendous commitment to service. Each school or college selects one student to be the Humanitarian of the Year. Students are then recognized at an awards luncheon hosted by FSU President Thrasher. Students also receive $200 that is donated in their name to the nonprofit agency of their choice. Finally, the student who best exemplifies commitment to service is named the President's Undergraduate Humanitarian of the Year, and an additional $1,000 is given as a donation to the nonprofit agency of his or her choice.
Congratulations to Jamie Klein, our 2015 President's Humanitarian of the Year!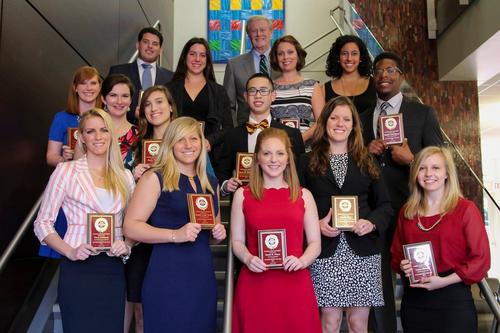 2015 Humanitarian of the Year Finalists
Sabrina McAlister
College of Applied Studies
Sabrina is a freshman from Niceville, Florida. When the time came to save a friend's life, Sabrina took on the opportunity to donate her kidney. She is now committed to spreading knowledge across her community on the power of organ donation.
---
Dora DeMaria
College of Arts & Sciences
Dora is a junior from Key West, Florida. Her involvement in Women in Math, Science, and Engineering (WIMSE) opened opportunities for learning about wildlife rehabilitation, and connecting more women to Relay for Life, with which she has been involved for over 10 years.
---
Sarah Green
College of Business
Sarah is a senior from Pace, Florida. Sarah launched the inaugural alternative spring break to Jamaica with FSU Greek Life. She also served as an AmeriCorps VISTA for United Way of Escambia County, leading a drive that collected over $58,000 worth of school supplies.
---
Joy Mikhail
College of Communication & Information
Joy is a junior from Boca Raton, Florida. Her time in small villages in Kenya was spent developing small-scale solutions to meet immediate needs. She also learned about issues affecting people with disabilities in these villages and cultural nuances between populations.
---
Janelle King
College of Criminology & Criminal Justice
Janelle is a senior from Sarasota, Florida. Her collegiate career has been framed by PeaceJam, an organization that works with Nobel Peace Laureates to encourage youth to be social change agents. She is committed to employing restorative justice to curb youth crime rates.
---
Lacey Meisner
College of Education
Lacey is a junior from Lutz, Florida. She has channeled her passion for education through her service with City Church of Tallahassee, where she mentors and tutors children through her ministry, and The Dance Project, facilitating free dance lessons for low-SES children.
---
Malcolm Jerrod Harmon
College of Engineering
Malcolm is a junior from Ft. Lauderdale, Florida. Malcolm has contributed nearly 300 hours to Tallahassee Pets Alive, an agency that collaborates with animal shelters to install no-kill policies, as well as help re-socialize animals so that they may be adopted by forever families.
---
Victoria Sunnergren
College of Fine Arts
Victoria is a junior from Coral Springs, Florida. She has tutored children through Grace Mission and served as liaison to RSOs for the Office of Servant Leadership, but she has been most impacted by her service with undergraduate research, where she serves as a colloquium leader.
---
Jared Becker
College of Human Sciences
Jared is a senior from Bradenton, Florida. Philanthropic fundraising has been the cornerstone of his college experience, culminating in his role as Sponsorship Chair for Dance Marathon, which has raised over $1,000,000 this year for the Children's Miracle Network.
---
Jamie Klein
College of Motion Picture Arts
Jamie is a senior from Parkland, Florida. She wrote, produced, edited and directed a short film for the FSU kNOw MORE campaign, committed to educating the campus community about sexual violence and prevention. This film is now shown at the Refuge House and FSU Orientation.
---
Emily Palmier
College of Music
Emily is a senior from Alpharetta, Georgia. She has served as both a camp counselor through FSU Alternative Breaks and as a Community Outreach Facilitator for Challenger Swim, but her most transformative experience has been through Blue Missions in the Dominican Republic.
---
Megan Leigh Smith
College of Nursing
Megan is a junior from Memphis, Tennessee. As a volunteer for St. Jude's Children's Research Hospital, she has nurtured child patients and trained teen volunteers. Recognizing a need, she organized a fuzzy sock drive to help keep patients' feet warm while at the hospital.
---
James M. Rujimora
College of Social Sciences & Public Policy
James is a junior from Miami Lakes, Florida. He serves as a Resident Assistant for University Housing and President of RENEW, promoting emotional wellness. But his experience as both a Boggy Creek camper and now as a counselor has been his most life-changing service.
---
Carolyn Scullion
College of Social Work
Carolyn is a senior from Ft. Myers, Florida. She serves as the Communications & Media Chair for the Southeastern Region of Relay for Life. Locally, she also serves as VP Marketing for FSU's Relay, which has been nationally recognized by the American Cancer Society.