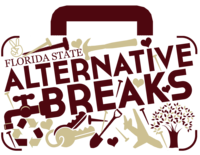 Want to create positive change with a community during spring break? Florida State Alternative Breaks is the program for you! 
Florida State Alternative Breaks sends students out to engage in direct service in diverse communities across the country and around the world during spring break. As a participant, students will understand the root causes of social issues and work alongside community members to identify and address issues in their community. Participants are aware of their own identity and create meaningful experiences as they interact with individuals from diverse backgrounds. Alternative Breaks alumni are leaders in their communities and have a lifelong commitment to sustainable service.
Mission
Florida State Alternative Breaks facilitates service immersion experiences for students to serve with and in a diverse community, learn about social issues, and develop as leaders and active citizens.
Apply
Applications for Spring 2018 trips will open on Aug. 21.
Contact us
Twitter: @FSUAltBreaks
Instagram: FSUaltbreaks
Facebook: Florida State Alternative Breaks
Want more information before applying? Contact Juan Mendizabal, Florida State Alternative Breaks program coordinator, at jmendizabal@fsu.edu.