Weekly roundup - Jan. 9
Don't miss out on any of the programs and events offered by the Center for Leadership & Social Change, and find out about volunteer and related opportunities on campus and around the community.
---
MLK Week Events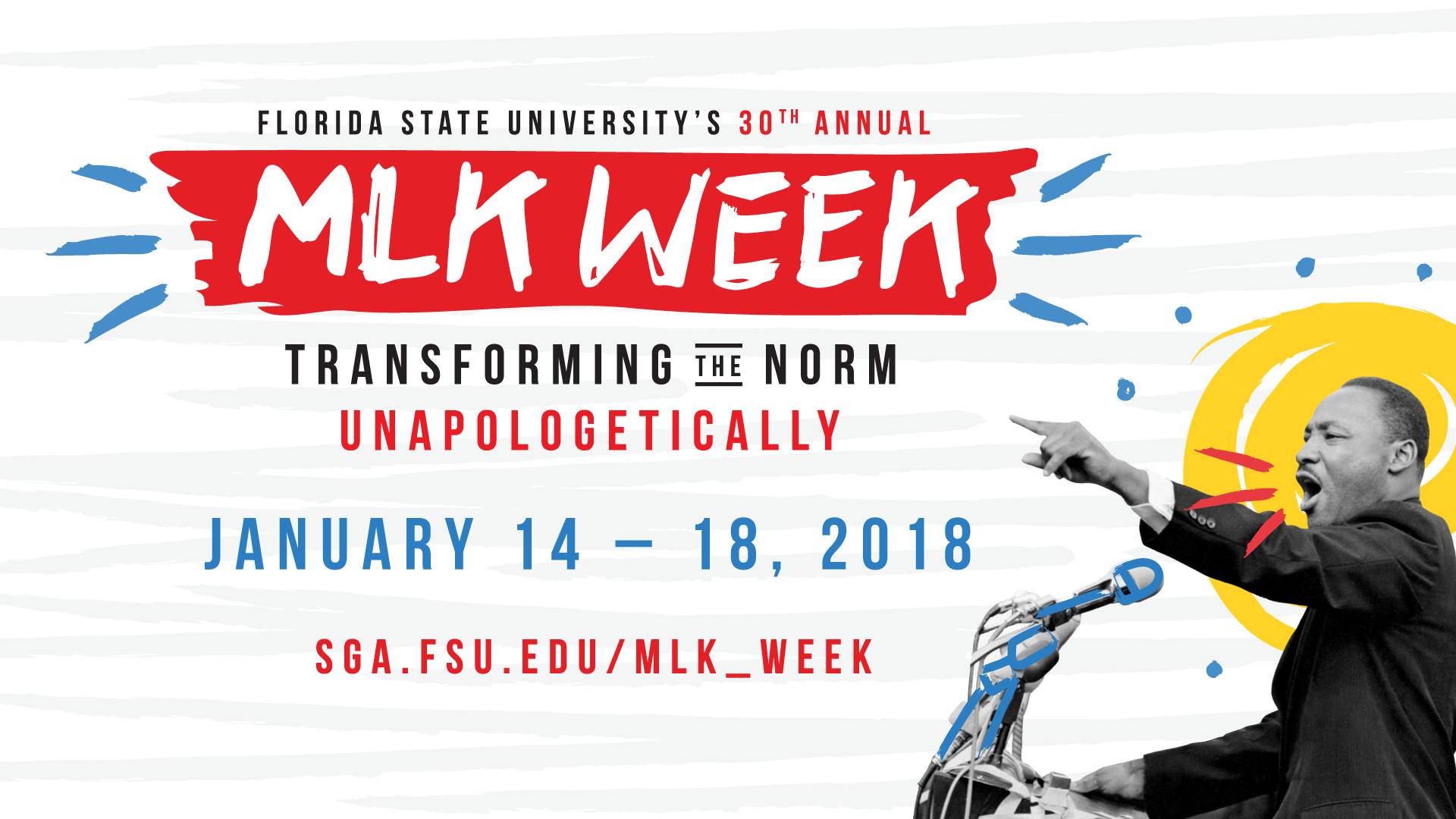 Rez Days
Jan. 14 · FSU Reservation
12 p.m. - 5:30 p.m.
Join University Housing at the Rez for music, free food, free shirts, and field activities! There will be opportunities to work on a service project as we kick off a week of honoring the life of Dr. Martin Luther King, Jr.
Dare to Dream Festival
Jan. 15 · Cascades Park
12 p.m. - 4 p.m.
Gather in reverence of Dr. King's legacy as we honor his dream and inspire others to pursue their own. Following the MLK Memorial March, the event will feature live musical performances, theatrical showcases, historical exhibits, local fare, dancing, and children's attractions.
An Evening with Angela Davis
Jan. 16 · Ruby Diamond Auditorium
Doors 6 p.m. Event 7 p.m.
Through her activism and scholarship, Angela Davis has been instrumental in movements for social justice around the world. Her work as an educator – both at the university level and in the larger public sphere – has always emphasized the importance of building communities of struggle for economic, racial, and gender justice. Ticket distribution to students with a valid gold FSU ID will take place at Ruby Diamond Hall on Jan. 16 from 5:30 p.m. to 6:30 p.m. Tickets are first come, first serve and students can obtain one ticket per ID. Upon availability, remaining tickets will be distributed to both students and non-students after 6:30 p.m.
Spotlight: A Living History
Jan. 17 · Club Downunder
7 p.m.
Explore a curated selection of multi-sensory experiences in the form of music, spoken word, visual art, film and dance, in addition to a human museum highlighting notable figures who have made an impact in the fight for equal rights.
MLK Block Party
Jan. 18
· ASLC Courtyard Commons
12 p.m. - 2 p.m.
Join us in celebration of Dr. King's transformative life and work. Enjoy birthday treats, sign an interactive birthday card, and commit to ways you can carry his legacy forward. Then learn about programs and services offered by the Division of Student Affairs and affiliated student groups as we reflect on what it means to transform the norm unapologetically. Hosted by the Center for Leadership & Social Change and University Housing.
Marshall Film Screening & Panel
Jan. 18
·
Student Life Cinema
6 p.m.
Marshall chronicles one of the career-defining cases of Thurgood Marshall, the first African-American Supreme Court Justice. A panel discussion facilitated by distinguished faculty will follow the screening. Hosted by the MLK Week Celebration Committee and Student Life Cinema. Additional showings of the film will take place Wednesday, January 17 at 6:00 PM and 9:00 PM.
---
Upcoming Center Programs
volunteer for the mlk dare to dream festival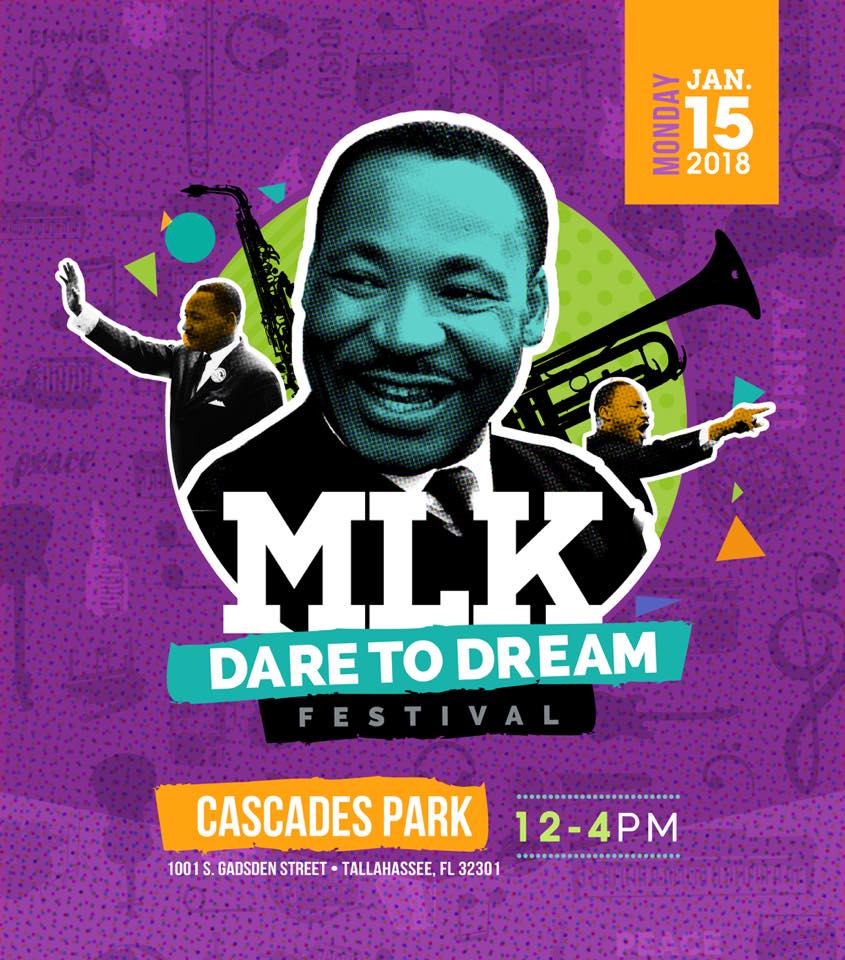 The Center for Leadership & Social Change is excited to partner with the The Martin Luther King Dare to Dream Association in coordinating volunteer efforts and supporting the annual service project
for the 6th Annual Dare to Dream Festival on

Monday, January 15 from noon to 4 p.m.

at Cascades Park
.
The festival, which is free to the public, will allow the community to gather in fellowship to continue the recognition of Dr. Martin Luther King, Jr. It is a way to celebrate his dream and inspire others to pursue their own dreams. There will be a sound stage hosted by Tight Mike; musical performances by various artists including 6x Grammy Nominated The Mad Violinist and Local Favorite Lacloteal; live music by DJ Boogie G; and cultural performances. The festival will also feature an MLK Birthday Bash for kids,  food, vendors, community service project, and a historical exhibit by the Meek-Eaton Black Archives.
As  a component of the festival, the MLK Dare to Dream Association encourages attendees to participate in a social action that will benefit an identified need in the community. More than 30  million Americans have diabetes. It is the seventh leading cause of  death according to American Diabetes Association. This year, the MLK  Dare to Dream Association has partnered with the Tallahassee Memorial Hospital Metabolic Center and the Diabetes Center in Immokalee to create awareness and support for individuals who have been  diagnosed with diabetes. The association and its partners are asking  members of the community to donate the following items to be collected during the event:
portion control plates
true Metrix meter strips for blood  glucose testing
batteries for blood glucose meters (CR2032)
pill  organizer boxes
items for oral hygiene (toothbrushes, toothpaste, floss)
lancets
pen needles
alcohol wipes
Volunteers are also needed to assist with the day's logistics.
youth programs mentor training session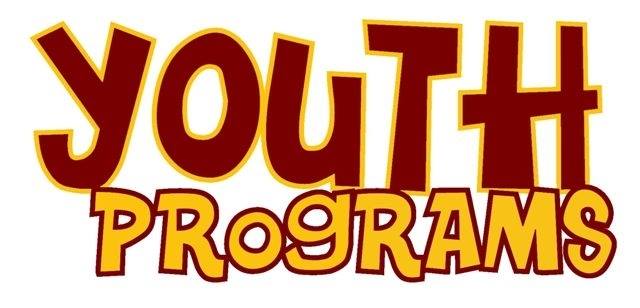 Jan. 19 DSC 2201/2202
4 - 5:30 p.m.
Become a mentor in local public schools! Youth Programs makes a wonderful difference in the lives of students in grades K-12 served by Leon County Schools. All mentors gain valuable experiences, including interacting with children, providing a much-needed service in schools and after-school programs, and learning and applying tutoring skills in reading, writing, math and science.
comm-unity dialogue series: Common Ground on Abortion: Past and Present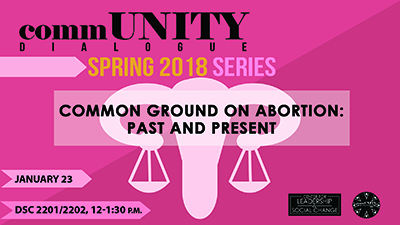 Tuesday, Jan. 23
 12-1:30 p.m.
 DSC 2201/2202
Mary Ziegler, Stearns Weaver Miller Professor at the Florida State University College of Law
Is compromise possible on abortion? The issue has become a wedge issue in national politics, a deciding factor in the nomination of Supreme Court justices, and the most visible front in the American culture wars. 
When and why was it no longer possible to find common ground? Are the middle-ground solutions still available? By addressing these questions, this dialogue asks how we got where we are today and where the abortion debate might take us next.
Social Justice Ally Training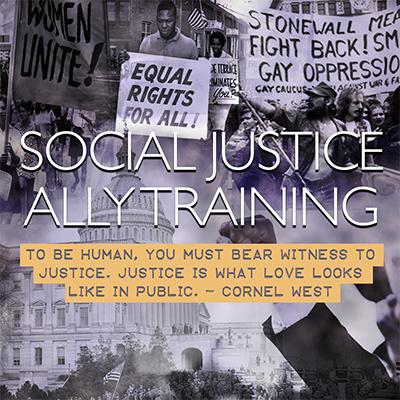 The mission of the Social Justice Ally Training program is to educate members of the Florida State community about issues related to social justice in order to develop allies who will promote an equitable and inclusive environment and serve as social change agents in a diverse and global society.
Individuals who register must be able to attend both days of a Social Justice Ally Training session. Registration is required for all training. In order to provide the highest quality training, registration is limited to 15 people.
Sessions will be held:
Feb. 14 & 19, 1 p.m. - 4:30 p.m.
Feb. 22 & 27, 9 a.m. - 12:30 p.m.
Become a PeaceJam CoacH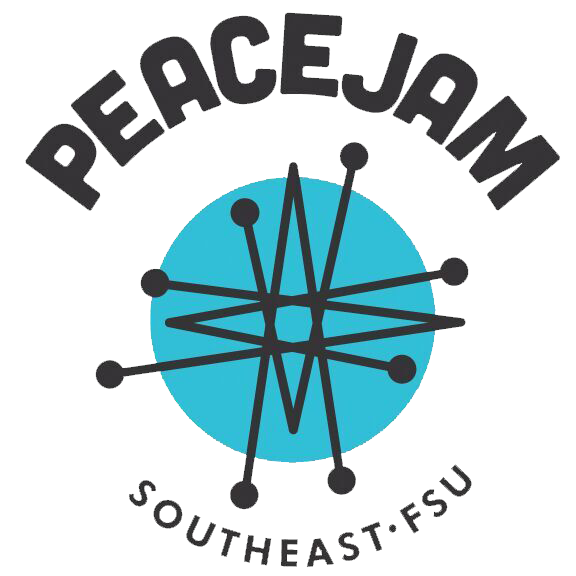 PeaceJam serves a number of local area schools and community programs utilizing our PeaceJam curriculum. PeaceJam coaches have the opportunity to work with groups of young people and educate them about the thirteen Nobel Peace Laureates who are a part of our program. They also help their students develop service projects, which they implement by the end of the school year. Coaching applications are now open. Application deadlines are Jan. 18 by 11:59 p.m.
Attend our info sessions:
Jan. 16 from 5 - 6 p.m. in DSC 2208.
Jan. 17 at 5 - 6 p.m. in DSC 2208.
If you have any questions about our program and how to be involved you can also contact Carlo Morante at cmorante@fsu.edu.
SJAT Train-the-Trainer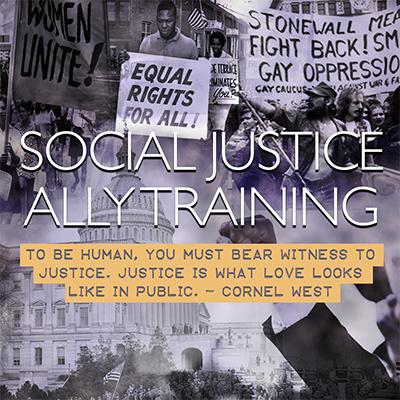 Did you love your experience with Social Justice Ally Training? Would you like to share it with others? Then become an SJAT facilitator by participating in one of two training sessions scheduled for the spring semester.
The mission of the Social Justice Ally Training program is to educate members of the Florida State community about issues related to social justice in order to develop allies who will promote an equitable and inclusive environment and serve as social change agents in a diverse and global society.
Sessions will be held:
March 1 from 1 p.m. - 4 p.m. at GME 2400

Apr. 18 9 a.m. - 12 p.m. at GME 3500
Community outreach program
The Community Outreach Program gives students the opportunity to get involved in community service on a regular basis, with projects to choose from almost daily. Projects are student-led and are offered at a variety of nonprofit agencies.  Students can sign up for projects as early as one week in advance and up to the day of the project. Space is limited so signing up early is strongly encouraged. Transportation is provided for all projects.
---
Campus Opportunities
power of we at fsu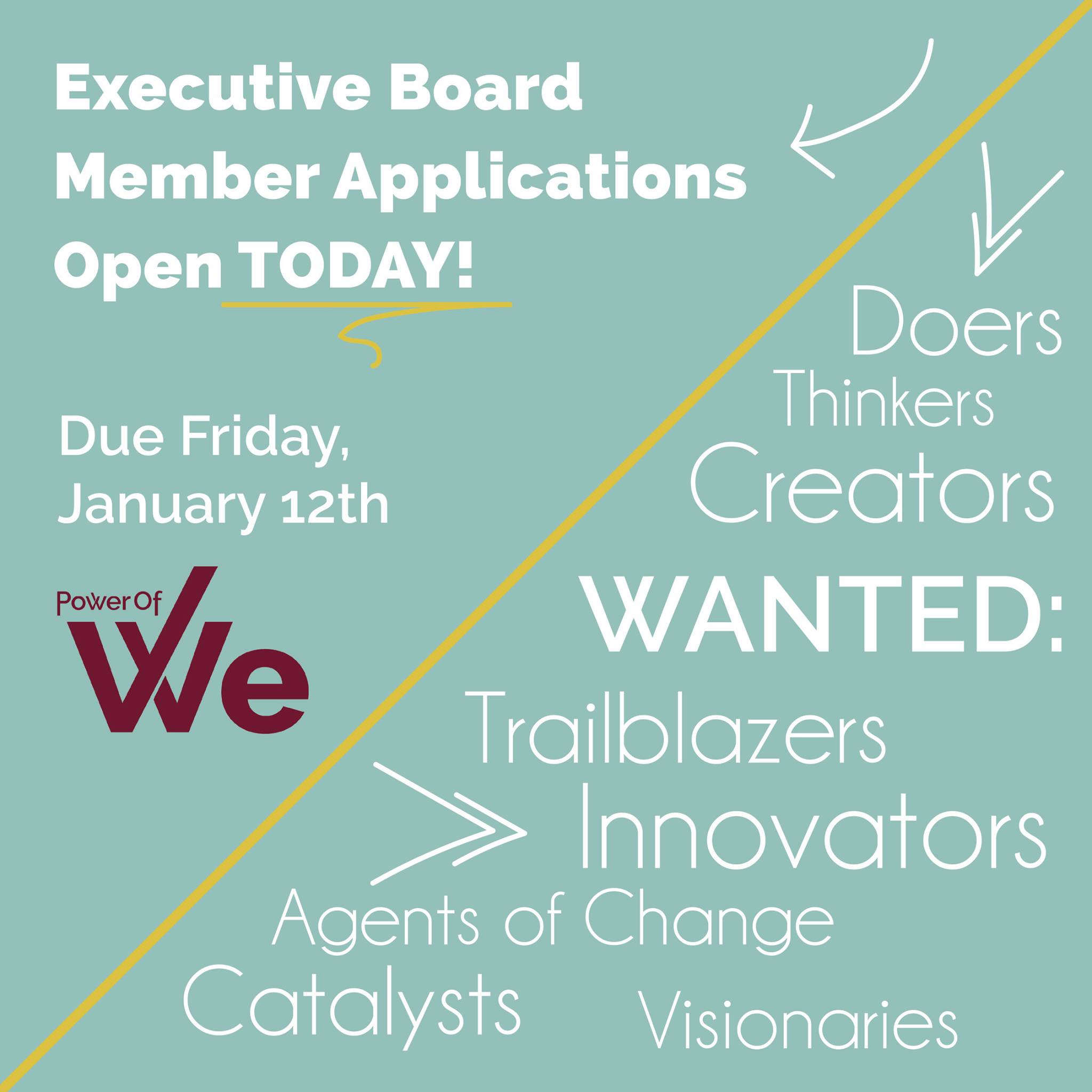 Executive board applications are currently open for Power of We at FSU. The application deadline is Jan. 12.
Food for Thought Pantry
University Center A, Suite 4100
The Food for Thought Pantry is asking for any donations you are able to provide, specifically: peanut butter, canned meats (such as tuna and chicken), canned beans, pasta, canned pasta sauce (students prefer canned as jars are breakable), mac and cheese, rice, oatmeal, and granola bars. The Pantry is able to take donations Monday through Friday, any time between 8am and 5pm. If your department has a specific food donation bin and is not able to bring it all the way to the Pantry, call (850) 644-9555 and someone may be available to help pick up your donations.
JOIN renew

RENEW is a peer education organization affiliated with the University Counseling Center. We offer presentations and peer to peer educational sessions with students on topics such as stress management, time management, study skills, conflict resolution, and healthy relationships as well as promote the University Counseling Center through outreach opportunities. We help the Counseling Center with university-wide events such as stress buster day and mood check-up day.
---
Community Opportunities
literacy volunteers of leon county
 On Jan. 27 at the Literacy Resource Lab of Collins Main Library the Literacy Volunteers of Leon County will be holding a training session for volunteers looking to aid refugees in English language learning. Student volunteers are encouraged to register and attend. Various refugees work at the campus dining facilities. Student olunteers could meet with an English language learner at a campus location. No prior teaching experience or foreign language skills are necessary, and hours are flexible.
recycle bike spring distribution
reCycle Bike will be distributing bikes for the spring semester!
Want an easy way to get around campus? Rent a bike from reCycle Bike for the low cost of $60! When you rent a bike, you will also recieve a lock, helmet, lights, and BEST subscription. Bikes are first come, first serve-so show up early!
Wednesday, January 10th from 5-7 PM
FSU Grainer Parking Lot (969 Learning Way)
Bali: Social Entrepreneurship & Innovation Immersion
June 4 – July 2, 2018
Deepen your understanding of social and environmental issues and the potential for social innovation and entrepreneurship to be an effective and sustainable approach to addressing complex problems.
This dynamic experience will provide students with an immersive understanding of social innovation and entrepreneurship through a highly-interactive exploration and application of theory and methods. We'll travel to several locations around Bali to study three social/environmental issues through site visits, talks with community leaders, case studies, action research, and immersion experiences:
Poverty & Economic Empowerment
Environment & Sustainable Development
Community & Global Health
Several of the examples we'll visit are internationally-recognized and/or award-winning social enterprises, high-impact nonprofits, or community-driven initiatives. We'll also examine how these issues intersect with each other and consider them through the lenses of Women & Gender; Traditional vs. Modern; Leadership & Community; and Formal, Non-Formal, & Informal Education.
Admission to the program is on a rolling, first-come/first- served basis and is capped at 20 students. 
For more information, please email Bruce Manciagli, Social Entrepreneur in Residence, at bmanciagli@fsu.edu.
---
Scholarships, Internships and Jobs
TBTT student intern
Take Back the Tap FSU is a student-run advocacy campaign and RSO aimed to help FSU become a bottled water free campus. This movement encourages students to utilize FSU's hydration stations while hosting educational events to raise awareness about the benefits of drinking tap water. If you are passionate about seeing less disposable plastic water bottles at FSU, email Jamie Valentine (jlvalentine@fsu.edu) with a paragraph about your interest in the position and your resume.
Project horseshoe farm Information session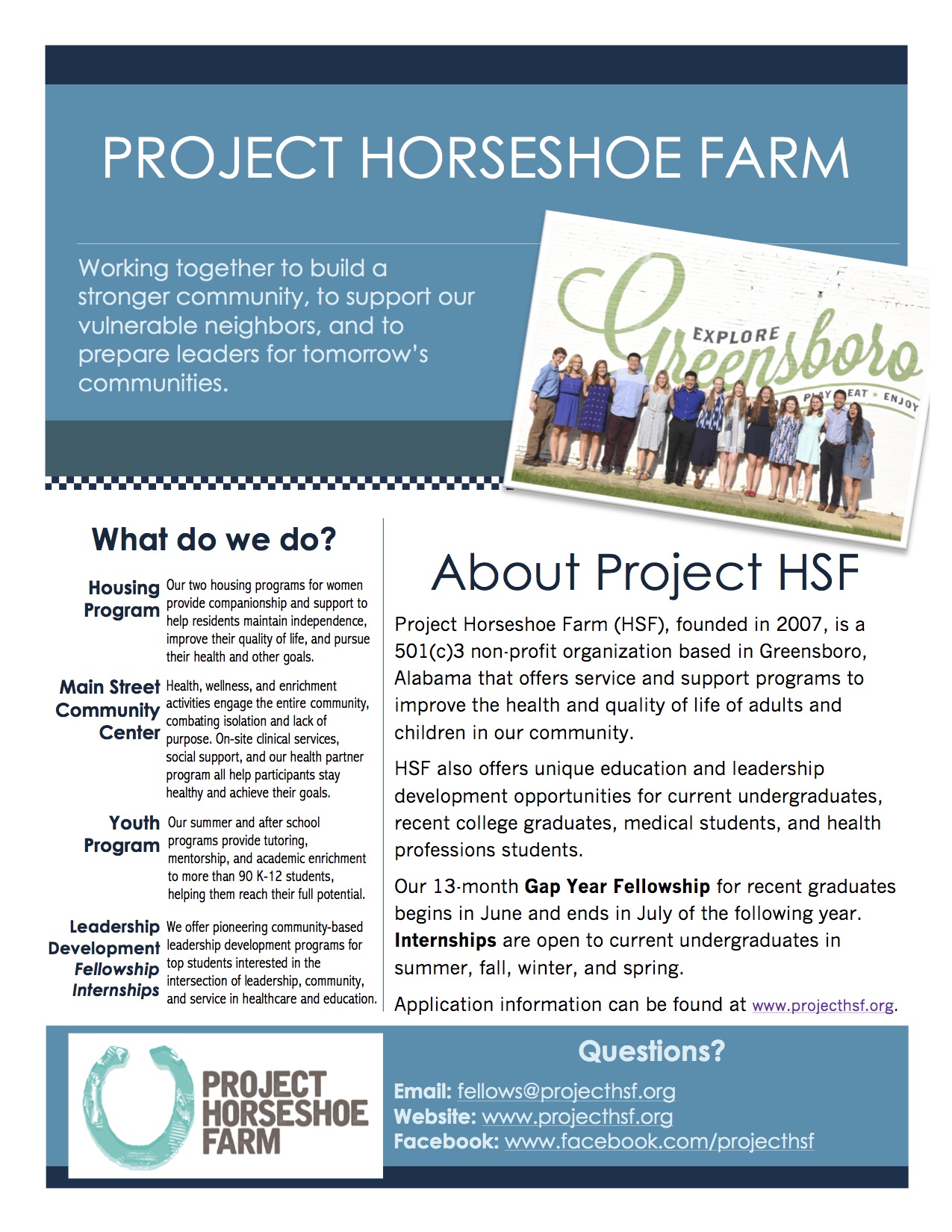 Tuesday, January 16, 11 AM-12 PM
Honors, Scholars & Fellows House  (HSF) 3008
The Office of National Fellowships will be hosting a representative from Project Horseshoe Farm, a gap year fellowship for graduating students interested in public service, community healthcare, and leadership development.
Alumni ambassadors award
The Ambassadors Award Committee seeks students with demonstrated commitment, vision, and potential for lifelong leadership and innovation in their communities and the world. Awards may be granted to current junior, senior or graduate students enrolled at Florida State University and may be used at the student's discretion for academic expenses such as tuition, academic materials and costs associated with research projects, including travel.
---