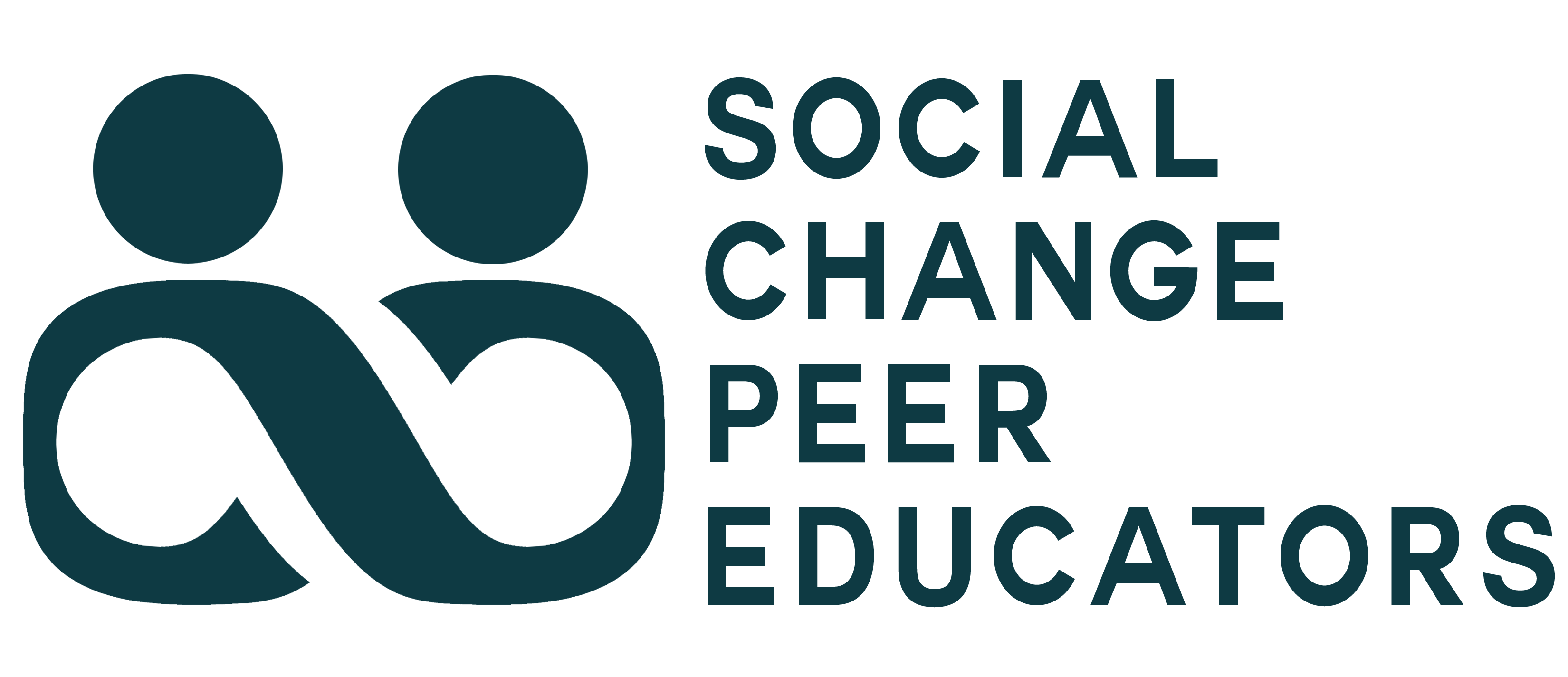 The Social Change Peer Educator Team engages undergraduate students as peer educators on the outcomes of diversity, inclusion, identity, and leadership. Peer educators are trained to facilitate a variety of workshops for campus partners and student organizations on behalf of the Center for Leadership & Social Change.
 
As Social Change Peer Educators, students:
Commit to understanding the multiple layers of our identity and the identities of others
Create a campus environment that encourages awareness of social issues
Identify and facilitate leadership learning as a process
Employ dialogue skills about and across difference
Requesting a Workshop
Since learning and growth happens over time, we have a structure to meet with a group at least three times. A group can request more sessions; however, a three-session series is the minimum requirement for full impact. We recommend allotting at least 60 minutes for each of these three sessions to explore the depths of each topic. Following the approval of the workshop, the requester will need to speak directly with a SCPE representative about your group's current environment and the goals you have for this group.
We encourage requests to be submitted at least three weeks in advance, as we may be unable to fulfill requests sent without sufficient notice.
To schedule a workshop or facilitation with the SCPE team please submit a request or email us at scpe@fsu.edu.
Current Offerings
The goal is for the workshops to build on each other. Therefore, prior to confirming your workshop selections, you will meet with the SCPE Advisor to make sure your group needs are being met by the workshop choice.
We recommend choosing one workshop from each section: Level 1, Level 2, and a Special Topic. For example, a series of workshops can include Identity 101, Identity 201, and Microaggressions.
Level 1 Workshops
Dialogue 101
This workshop is designed to provide a better understanding of how to facilitate and engage in open dialogue. After distinguishing between debate and dialogue, participants will discuss controversial topics across their differences of opinion. Through this workshop, participants will reflect on and apply strategies for healthy dialogue that leads to a shared learning experience.
Diversity and Inclusion
What exactly do "diversity" and "inclusion" mean? How do these terms apply to your current role as a campus leader? Through this workshop, participants will answer these questions and recognize the importance of more diverse and inclusive spaces in learning.
Identity 101
Identity is the starting place for personal development. In this workshop, participants will explore the complex layers of personal and social identities. Through a variety of activities, participants will explore and define their own identities, and dialogue about their differences and similarities. By using this opportunity to reflect on, apply, and discuss how their identities influence their daily experience, participants will be better prepared to approach the leadership process and promote dialogue across difference.
Leadership 101
"Am I a leader?" In this workshop, participants will gain the opportunity to answer this question. Traditional perceptions of leadership will be challenged to make way for a more accessible approach to leadership efficacy, one that participants can apply to both their future leadership experiences and daily lives.
Level 2 Workshops
Becoming a Change Agent
"What can I do to make a difference in my community?" In this workshop, participants will gain the tools necessary to begin working through this question and narrowing their passions.  Participants will transform passion to action as they think about a change process they desire to see in the world today.
Identity 201
Resuming where Identity 101 left off, Identity 201 addresses societal advantages that may be associated with our social identities. This workshop allows participants to recognize how some identities may afford greater social power and privilege than others. With this gained understanding, participants will be more prepared to address systems of oppression and engage with marginalized identities.
Leadership 201
Picking up where Leadership 101 left off, Leadership 201 allows participants to consider challenges that accompany transitioning into and out of an organizational role. Through this workshop, participants' ability to consider multiple perspectives will be challenged. Then, they will consider strategies for sustainability within their organizations. Finally, participants will identify how strategies for smoothly transitioning out of their roles.
Social Change Model
Participants will identify their personal and group values and develop a baseline understanding of the Social Change Model of Leadership Development. Participants will explore leadership assumptions related to the SCM, and apply the SCM values to their work on an individual, group, and community/society level.
Social Justice
In this workshop, participants will critically examine their identities, as well as their beliefs and assumptions about others. Together, we will look at the cycle of how people are socialized to perceive the intersections of race, class, ability, sexual orientation, gender identity/expression, and many other social identities. Finally, participants will also develop skills in allyship around identities to which they do not belong and ways to break out of the cycle.
Special Topics
Microaggressions
Microaggressions can be defined as "brief and commonplace verbal, behavioral, or environmental indignities, whether intentional or unintentional, that communicate hostile, derogatory, or negative…slights and insults toward people…" (2007, Sue et al). This workshop will explore the nature of microaggressions, and how this behavior affects people. In addition to exploring microaggressions as they relate to larger concepts of privilege and oppression, participants will be encouraged to utilize the workshop as an opportunity to discuss microaggressive behavior as it occurs on the Florida State campus.
Responding to Racial Trauma and Racial Healing
In response to experiences of racial discrimination or trauma felt by our community, this workshop is meant to serve as a reflective space for healing. Participants will gain the opportunity to reflect on their experience by navigating a labyrinth at their own pace. Following the labyrinth, participants will be invited to share how they reflected on their experience and how we can move forward together as a community.
Social Media for Social Change
This workshop is designed to critically assess social media as a growing platform for online activism. Together, we will address whether or not social media can contribute to positive, sustainable change or if it actually promotes "slacktivism."
SOS: Socialization on Screen
Through the "SOS: Socialization on Screen" workshop, participants will critically assess where their identities appear in media. As we reconsider coexistence in the U.S. from the perspective of a mosaic, rather than a melting pot, it is important to be aware of how we are taught to perceive both our own identities and identities that are different from our own. Using the Cycle of Socialization, participants will recognize how on screen depictions of various intersecting social identities may contribute to our understanding of certain experiences in order to find ways to challenge these incomplete narratives.
Open Sessions
Register to attend upcoming session hosted by peer educators. As with requested workshop series, participants are encouraged to attend multiple sessions to continue to build on their learning. All sessions take place from 6-8 p.m. in GME 3200.
Feb. 3
Dialogue 101
Feb. 24
Identity 101
March 1
TBD
Becoming a Change Agent
(Postponed)
March 23
Microagressions
March 31
Leadership 101
April 7
Leadership 201
April 14
Identity 201
Become a Social Change Peer Educator
The Social Change Peer Educator Team is a Federal Work Study opportunity available to undergraduate students interested in working as a student assistant for the Center for Leadership & Social Change. Students should be familiar with on-going social issues and social justice trends in the world and have an interest in facilitation, leadership learning, identity exploration, diversity, and inclusion. Student volunteers can also participate in the program. Please contact Dr. Sierra Turner at srturner@fsu.edu if interested in a Federal Work Study position with the team. This position is designed to engage undergraduate students in a program to serve as peer educators on the outcomes of diversity, leadership, and service. Through facilitation and dialogue the peer sits at the intersection of all three, collaborating with campus organizations, departments, units, and community members who hope to engage and learn.
Responsibilities
Participate in in-depth facilitator trainings
Facilitate workshops, trainings, and presentations
Assist with developing training, content, and education around the outcomes of diversity, inclusion, identity, and leadership
Assist with marketing and recruitment for workshops, trainings, and presentations
Support ongoing assessment through data inputting and sharing of the workshops, trainings, and presentations
Manage reservation process and communication with groups, organizations, departments, and offices who request specific workshops, trainings, or presentations
Support logistical needs (copying, scanning, supply ordering, supply organizing, printing, etc.) for intentional learning opportunities for students, faculty, and staff
Contact
Email the team at scpe@fsu.edu.
title-inside title-centered
2