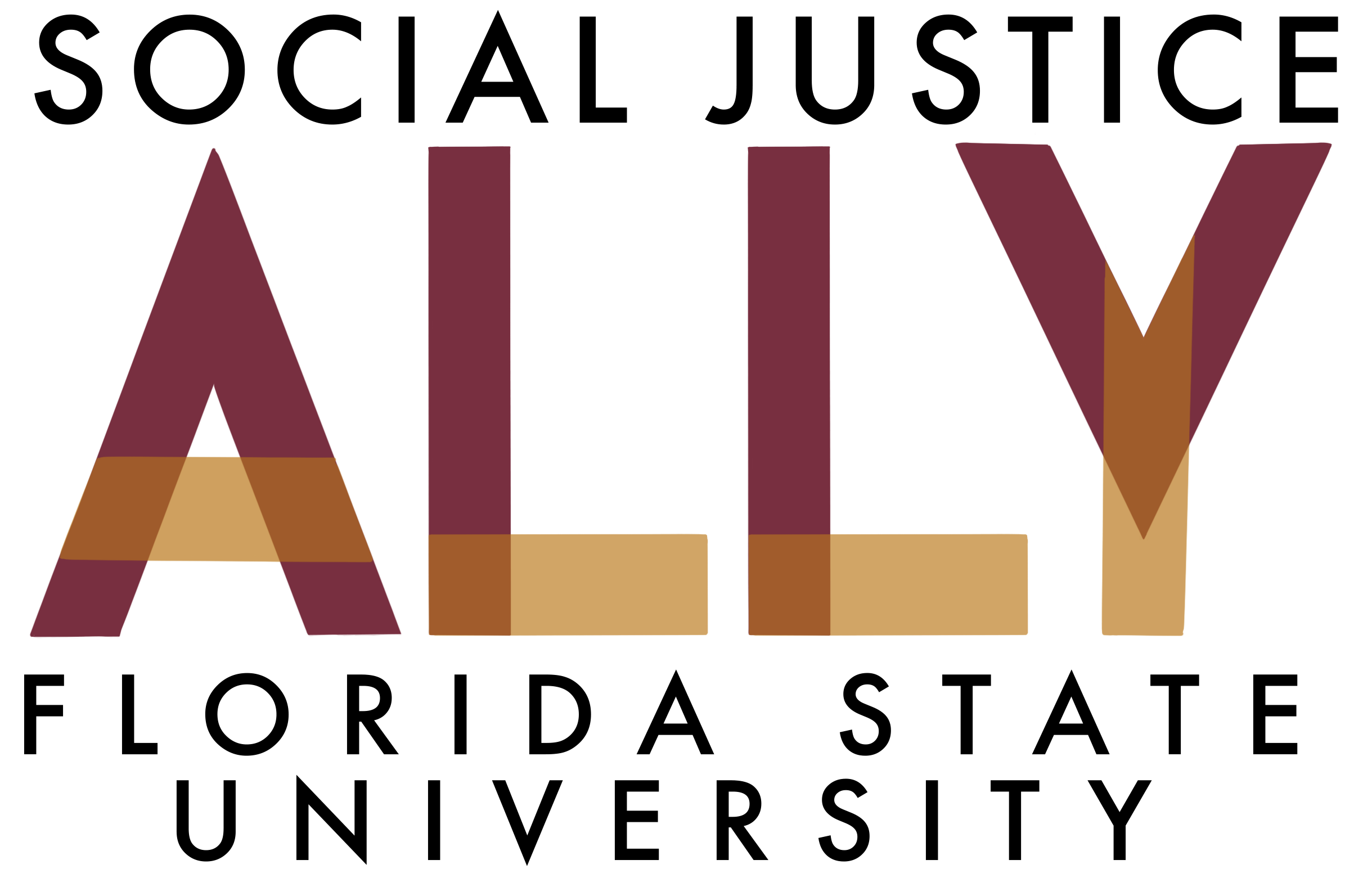 Mission
The mission of the Social Justice Ally Training program is to educate members of the Florida State community about issues related to social justice in order to develop allies who will promote an equitable and inclusive environment and serve as social change agents in a diverse and global society.
Goals
Social Justice Allies will determine effective strategies related to combating social justice issues by:
Developing an awareness:
of key concepts related to social justice, diversity, and oppression
of social justice issues, including racism, classism, religious oppression, sexism, heterosexism, gender oppression, ableism, ageism and adultism, and xenophobia;
of how systems of oppression have impact U.S history
Developing knowledge of self and others by:
recognizing how the Cycle of Socialization has contributed to our understanding and beliefs associated with various social issues
being aware of social group membership and Identifying dominant and subordinated identities
Using action towards becoming a social justice ally by:
understanding that social justice is a goal and a process
demonstrating an understanding of ally identity development
displaying a commitment towards continuing education related to ally identity development
Holding self-accountable for conscious and unconscious behaviors that harm target group members
Registration
The next session of Social Justice Ally Training will take place:
To Be Determined
Individuals who register must be able to attend both days of a Social Justice Ally Training session. Registration is required for all training. In order to provide the highest quality experience, registration is limited to 20 people.
Become a facilitator
Did you love your experience with Social Justice Ally Training? Would you like to share it with others? Then become an SJAT facilitator by participating in a training session scheduled for the fall semester.
 
SJAT Facilitator Expectations
Attend a Train-the-Trainer session and become certified to facilitate for future sessions
Co-facilitate a minimum of one training per academic semester on campus
Attend and participate in facilitator meetings for curriculum updates, outreach projects, and community building
 
Train-the-trainer sessions
No facilitator trainings are currently scheduled.
Group Training
Departments and organizations are encouraged to complete the entire two-day workshop due to the amount of material covered within Social Justice Ally Training. We are happy to work with your group to schedule dates and times that would work accordingly for your group. Each training date is 3.5 hours in total. Training is capped at 20 participants.
Contact
For more information, please contact Dr. Sierra Turner at srturner@fsu.edu.
title-inside title-centered
2