The Social Justice Living-Learning Community is located in Wildwood Hall. The SJLLC is designed for students of all majors who desire to engage in meaningful, intentional, and open discussion on many societal issues.
SJLLC, colloquially known as SoJust, is made up of up to 30 students who participate in this supportive, inclusive community. "SoJusters" will engage in discussions meant to challenge existing beliefs and opinions by participating in discussions with a diverse group of students. The community is meant for students who seek to engage in open and progressive discussions on race, ethnicity, gender, sexual orientation, class, religion, ability, citizenship, political ideology, and other identities.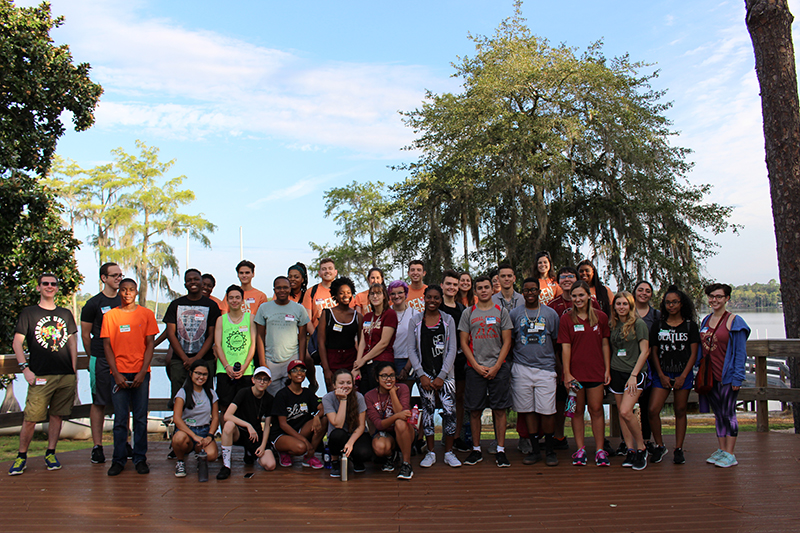 Further, students will be challenged to use this educational foundation of understanding social issues and implement them into meaningful projects as the year progresses. Co-curricular activities are a staple of the experience within SoJust, and students will be expected to regularly attend events put on for and by members of the SoJust community.
The Social Justice Living Learning Community is much more than simply being placed in a residence hall;  applicants for the program should seek more than a comfortable living situation, but to also further their own understanding of people, groups, communities, and societies. The strength, skill, and character gained from academic coursework and co-curricular programming will equip you to initiate positive, sustainable change and truly embody the spirit of Florida State University.
Application Process
Carefully read the LLC agreement for the LLC of interest to you; if you have any questions or concerns about anything in the agreement, contact that LLC's faculty director for clarification.
Submit your LLC application before 11:59 p.m. Eastern time on Monday, April 11.
Log back into the LLC application on April 27 to check your updated status:

If your LLC application status is "Invited," click "Accept" before 11:59 p.m. Eastern time that Saturday, April 30 to secure your space in the LLC.
If your status is "Alternate," check it again weekly online, and check your FSU email account daily. If invited to any LLC, you must accept promptly or forfeit your invitation.
Application Prompts
The goal of the Social Justice Living-Learning Community is to create a community of engaged learners concerned with the broad range of social justice issues. Students considering applying to the Social Justice Living-Learning Community should reflect on the following questions as part of the application:
Students in any LLC can expect to meet and spend time with like-minded people. What other benefits do you expect to gain by participating in this particular LLC?
If you have chosen a major, what led you to this choice? If you have not yet chosen a major, which majors appeal to you and why?
What was your favorite high school class and why? What was your least favorite high school class and why?
What does it mean to you to be a part of a diverse community?
Based on the written application, some applicants to the Social Justice LLC will be invited to participate in a phone interview with an LLC student or staff member; final acceptance into SoJust is based on both the written application and the interview. If you are chosen for an interview, we will notify you by email.
If you are selected as an alternate for any LLC, we may need to contact you very quickly by email or phone when a space becomes available. If you are invited by email or phone, you must accept promptly or forfeit your invitation.
Important 2022 Dates
    Feb. 23 – Housing contract opens for admitted students
    Feb. 25 – LLC application opens
    April 11 – LLC application deadline
    April 27 – LLC invitations posted
    April 30 – Deadline to accept an April 27 invitation
Program Requirements
Fall retreat – first weekend of classes
Mid-semester check-ins with the program coordinator – October
Spring retreat – in conjunction with the Multicultural Leadership Summit in February
Multicultural Leadership Summit - January
Service in the community throughout the year
Educational programming coordinated by staff, mentors, and TAs throughout the year
End of year banquet - April
Course Requirements
SoJusters enroll in three classes during their first year: one in the fall, one in the spring, and one either in fall or spring.
LDR 2213 – Leadership for Social Justice (fall)
LDR 2210 – Leadership through Intergroup Dialogue (spring)
IFS 2021 – SJLLC specific speech course (fall or spring)
SoJust Ambassador Program
Second-year students have the opportunity to return to the SJLLC as ambassadors. These students connect current SoJusters to their peers and resources, including LLC alumni, campus and community partners, and representative leaders. They are charged with challenging previous assumptions and fostering internal reflection and growth while building intentional relationships, community, professional development, and interpersonal skills.
Additional Resources
Contact
Ashley Archer Doehling
Program Coordinator, Social Justice Living Learning Community
850-645-6856
anarcher@fsu.edu
Denise Mercier
Living-Learning Communities Coordinator, University Housing
850-644-2860
dmercier@fsu.edu
title-inside title-centered
2