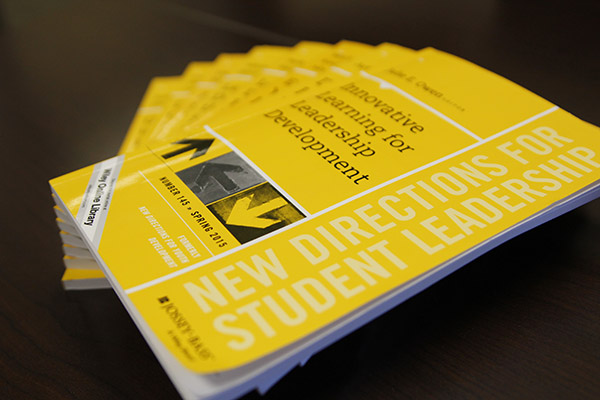 New Directions for Student Leadership is a quarterly sourcebook series which explores dimensions of the development of leadership in high school youth and college students to aid leadership educators who design educational courses and programs for students.
The series, edited by: Susan R. Komives, Editor, and Kathy L. Guthrie, Associate Editor, explores leadership conceptual and pedagogical topics of interest to high school and college leadership educators. Issues in this series are grounded in scholarship featuring practical applications and good practices in youth and adult leadership education.
Please visit the New Directions for Student Leadership website for more information on the sourcebook.
Available issues
No. 159 (Fall 2018): Integrating Critical Perspectives into Leadership Development
No. 158 (Summer 2018): Role of Mentoring, Coaching, and Advising in Developing Leadership
No. 157 (Spring 2018): Leadership Development for Career Readiness in University Settings
No. 156 (Winter 2017): A Competency-Based Approach for Student Leadership Development
No. 155 (Fall 2017): The Role of Student Organizations in Developing Leadership
No. 154 (Summer 2017): Critical Perspectives on Gender and Student Leadership
No. 153 (Spring 2017): Going Digital in Student Leadership
No. 152 (Winter 2016): Developing Culturally Relevant Leadership Learning
No. 151 (Fall 2016): Assessing Student Leadership
No. 150 (Summer 2016): Leadership Development through Service Learning
No. 149 (Spring 2016): Leader Developmental Readiness: Pursuit of Leadership Excellence
No. 148 (Winter 2015): Engaging Youth In Leadership for Social and Political Change
No. 147 (Fall 2015): Student Leadership Development through Recreation and Athletics
No. 146 (Summer 2015): Developing Ethical Leaders
No. 145 (Spring 2015): Innovative Learning for Leadership Development