The Center for Leadership & Social Change, in partnership with the Center for Academic Retention & Enhancement (CARE), Student Government Association, University Housing, and the Office of Fraternity and Sorority Life, is proud to host Florida State University's cultural graduation ceremony, V-rak-ke-ce-tv.
The name "V-rak-ke-ce-tv" is the Seminole Creek phrase meaning "to honor" as we seek to honor students' accomplishments through their journey, honor their families and friends for their continued support, and honor what it truly means to be a Seminole.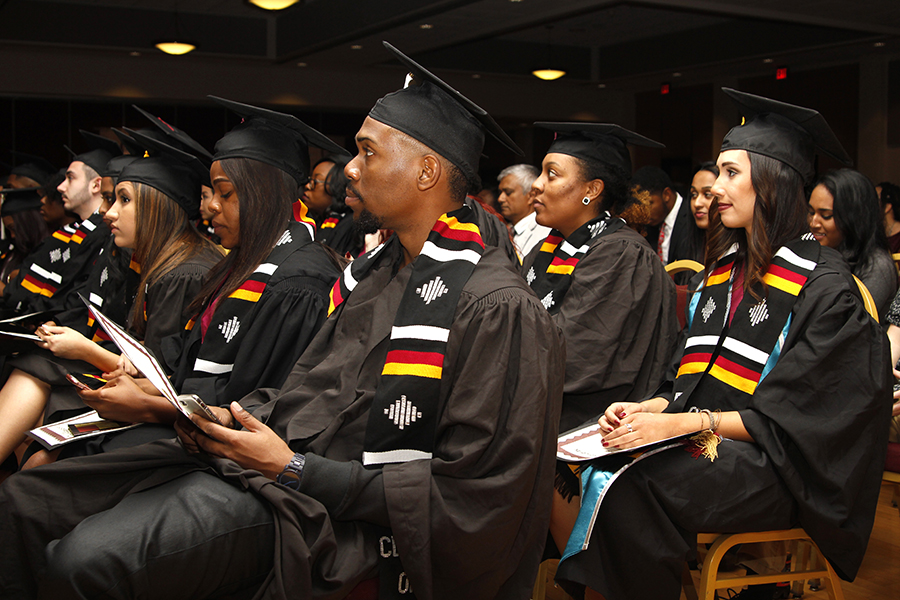 Support for the event is also provided by SGA Agencies and Recognized Student Organizations, including the Black Student Union, Hispanic and Latino Student Union, Pride Student Union, Women Student Union, American Indian Student Union, Veteran Student Union, and Asian American Student Union.
Ceremony
V-rak-ke-ce-tv ceremonies are held at the end of the spring semester for spring and summer graduates and in December for fall graduates.
The spring 2020 ceremony will take place at 6 p.m. on Thursday, April 30 in the Oglesby Union Ballrooms at 75 N. Woodward Ave.
Doors open to guests at 5:30 p.m.
All graduates should arrive in academic regalia including gap and gown, stoles, honor cords, etc. by 5 p.m. Dress is business, including slacks, skirts, dresses, blazers and suits. Students are asked to avoid jeans and tight, short, revealing clothing.
A reception with light food and beverages will immediately follow the ceremony.
Registration
The ceremony has a limited number of seats, and registration is on a first-come, first-served basis until filled. Students beyond the initial capacity will be placed on a waiting list and may participate if slots become available. 
To participate in the ceremony, students must attend an orientation session to receive important information about the ceremony and have portraits taken with your cap, gown, and stole (all will be provided at the orientation session). 
Registration is currently closed.
Orientation
Participants must attend a mandatory orientation session to understand their role in the ceremony and to have a portrait taken for the ceremony's presentation. Those who fail to attend an orientation or make arrangements with organizers may forfeit their seat in the ceremony to a registrant on the wait list.
Due to the university's decision to make all classes online until April 6, the remaining orientation sessions have been canceled. If you are registered and have not yet attended an orientation, please access the orientation materials below and complete the entire document. Photo opportunities will be offered once students return to campus.
Contact
For more information, please email Satcha Sanon at ssanon@fsu.edu.
title-inside title-centered
2