PeaceJam Slam inspires next generation of global leaders
---
PeaceJam Slam inspires next generation of global leaders
Transforming global service, promoting world peace, and inspiring the next generation of leaders doesn't happen on a typical day at school, unless you're a part of PeaceJam.
Students throughout the region gathered at FSU on Oct. 26 for PeaceJam Southeast's 13th annual PeaceJam Slam.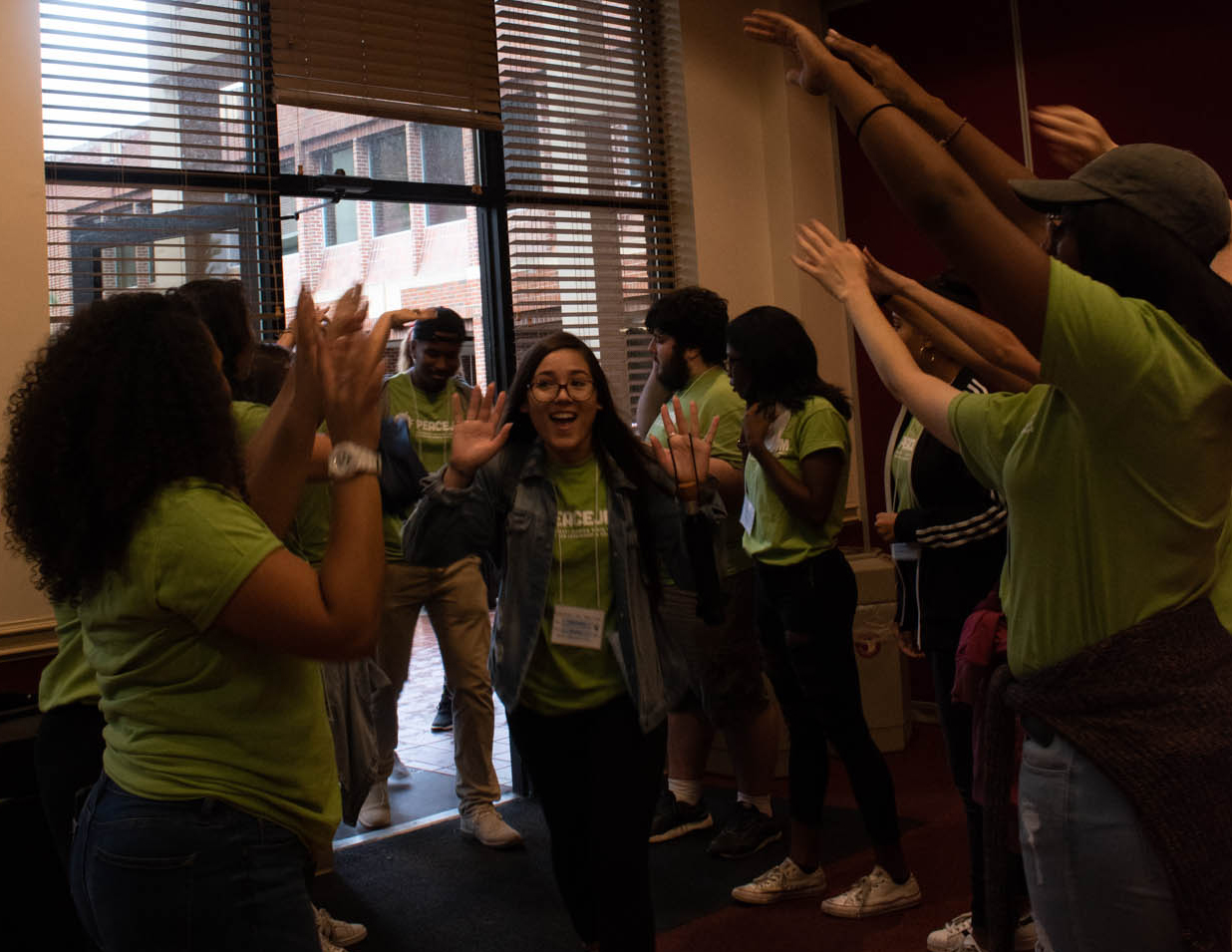 The event kicked off with a warm welcome as K-12 students geared up for a day of workshops, a keynote speech, and group discussions. Emcee Desirae Brown started by explaining a new element to the event: this year's slam theme, "Mind the Gap," which was inspired by subway signs warning people of the dangerous gaps they can fall into. With a new interpretation, the message implied that people need to be aware of the underlying, non-visible identities others carry with them.
"You think you know someone based on what you see, but what drives us are the identities that you may not see," Brown said. "Those non-visible identities make up a lot of who we are. So it is important to mind those gaps."
This central theme carried throughout the program and provided a significant learning experience for student attendees and Florida State PeaceJam mentors. Ornelia Jones, a junior industrial engineering major and PeaceJam mentor, discussed how her experiences with PeaceJam have opened her eyes to concepts and issues she's never considered before.
"PeaceJam has made me more aware of the social issues people face around the globe," Jones said. "I feel more conscious in my daily life now that I've become a part of this program and learned about worldwide social issues."
PeaceJam mentors worked throughout the slam to engage student attendees in workshops and group discussions on a range of global human rights issues. Throughout the year, Florida State students have the opportunity to lead students as mentors and coaches. As an international education program, PeaceJam works to inspire the next generation of transformational leaders by connecting youth to Nobel Peace Prize Laureates. FSU students assist in this mission by educating these young students about Nobel Peace Laureates and aiding them in developing meaningful service projects for implementation at the end of the year.
Pat Shafer, a senior public relations major and first-time PeaceJam mentor, explained their reason for being a PeaceJam mentor.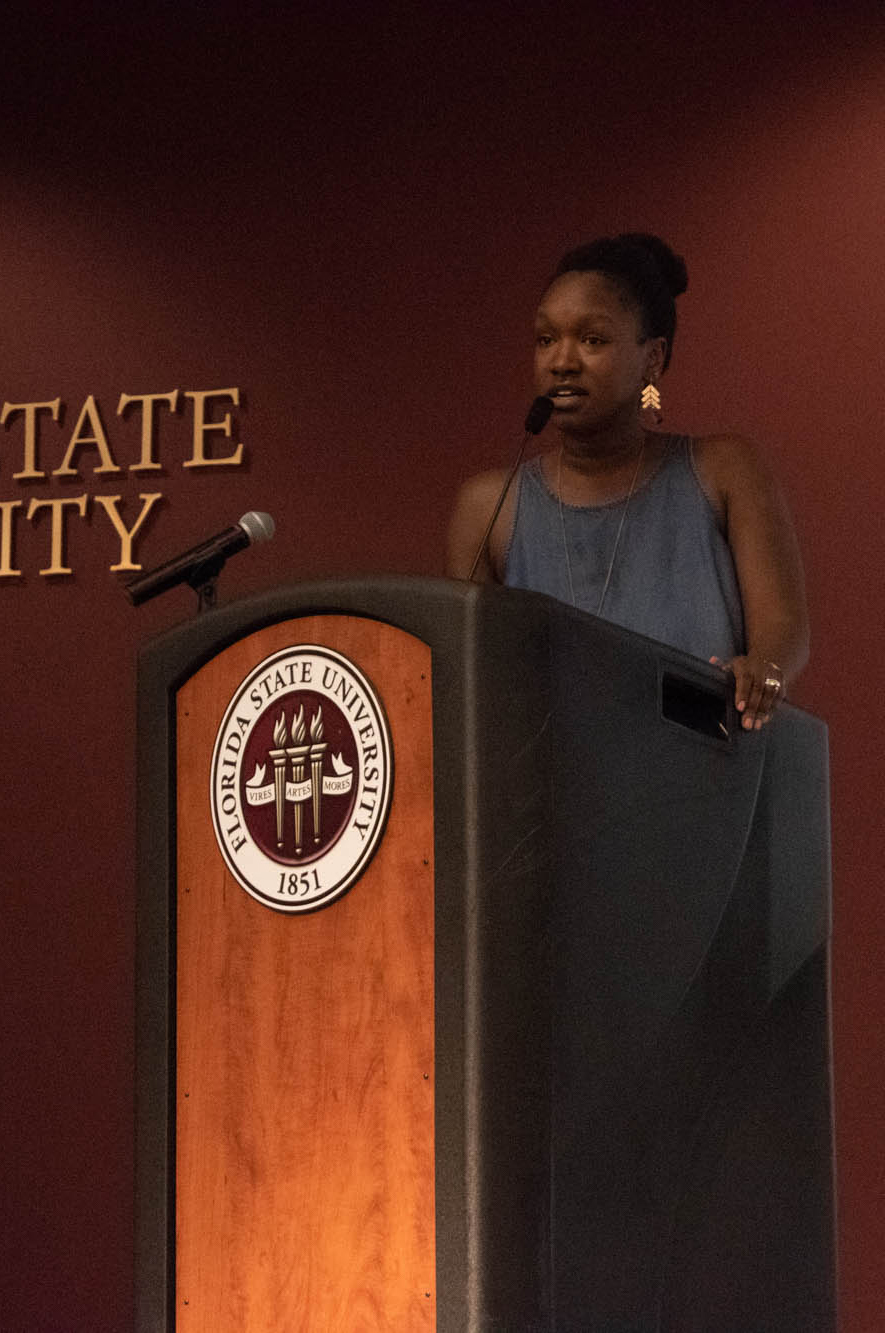 "This program allows young students to learn more about their potential to be leaders," Shafer said, "and I'm so grateful that I can be that leader for them."
Workshops were followed by a keynote speech from Joviah Woodrich, the volunteer services director for Volunteer Florida. Woodrich highlighted the ways people can be aware of and  positively address some of the non-physical identities other people have.
Woodrich asks attendees to consider, "Are there ways that you are blind to accepting your biases because you believe they are okay?"
After becoming aware of personal biases and how they don't provide a holistic understanding of a person's identity, Woodrich said she believes it is important for people to ask themselves, "Does this thinking contribute to the kind of change we want to see in the world?"
Woodrich described how it can be difficult to disable engrained personal biases, but conversations about those biases can be the best way to begin getting rid of them. In our current societal climate, Woodrich noted, it is difficult to keep these tough conversations positive and productive.
Oftentimes, she said, "people think you disagree with who they are, not what they think."
Nevertheless, pushing past discomfort and building relationships with people of different identities and beliefs is crucial to creating a better society.
"If you can't understand where someone else is coming from now," Woodrich asked, "how will you be able to work with them later?"
This slam is PeaceJam's annual kick-off event to welcome K-12 students and inspire them as they start developing their own PeaceJam Global Call to Action service projects.
Jenna Ward, a third-year PeaceJam mentor, hoped that this discussion of biases and social issues inspired attendees.
"I hope that they leave this experience passionate about their future service projects," Ward said, "Hopefully through the slam they will be able to find service project ideas that have meaning to them.
Overall, Shafer said, PeaceJam is "a great opportunity for people who want to help create a better world to get involved with social change and meet other like-minded people."
— Talise Burton