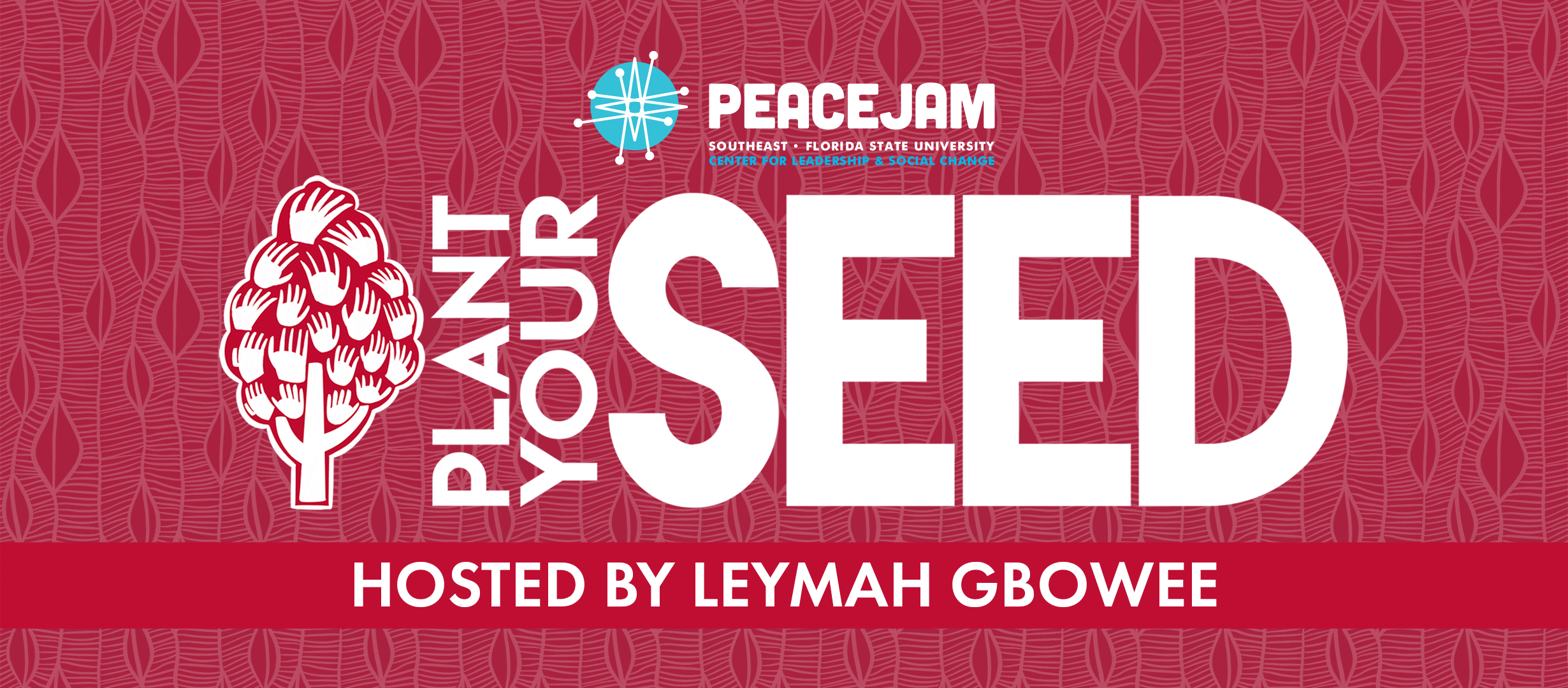 "The world is upside down, it's going to take a lot of hands to turn it right side up." – Leymah Gbowee
Join us for the 12th Annual PeaceJam Southeast Regional Youth Leadership Conference, "Plant Your Seed," hosted by 2011 Nobel Peace Laureate Leymah Gbowee on Friday, April 9 & Saturday, April 10.
Due the generous support of our PeaceJam community, we are able to waive the standard $100 registration and offer attendance at this two-day, live virtual event free of charge.
This life-changing leadership conference provides youth (8th-12th grade and college) with the amazing opportunity to spend two days with a world leader for peace and engage with hundreds of change agents from around their region and the world.
During the conference, Gbowee will engage in dialogue with students on Friday and deliver a keynote address followed by a Q&A with students on Saturday. She received the 2011 Nobel Prize for her role in creating and leading Women of Liberia Mass Action for Peace, a grassroots, nonviolent movement that planted the seed of peace and brought an end to the Second Liberian Civil War. The social worker and mother of eight is a tireless advocate for educational and leadership opportunities for girls, women's high-level inclusion in conflict resolution, and awareness of the devastating effects of war and gender-based violence.
Conference Details
Date: April 9-10, 2021
Location: Zoom – A LIVE Virtual Event
Host: PeaceJam Southeast at FSU Center for Leadership & Social Change
FRIDAY
Network and dialogue with youth leaders of diverse backgrounds and Madame Gbowee herself
Engage in virtual service opportunities
Present and refine the community-rooted service initiatives you've been working on locally
Showcase your gifts in "What's Your Why?" — our all arts open mic and evening of inspiration
Saturday
Explore the life of 2011 Nobel Laureate Leymah Gbowee & nonviolent peace movements
Be inspired by the keynote address of a master storyteller, coalition builder, & world leader
Join the conversation through workshops and family groups on topics related to leadership, identity, and action through the 10 focus areas of PeaceJam's 1 Billion Acts of Peace Campaign (www.billionacts.org)
Build partnerships for collective action that intersect with your passion(s) and amplify your potential to generate and sustain positive, sustainable change
Registration
The conference will offer two tracks, one for youth in grades 8-12 and one for college students. Registration fees have been waived for this year's event.
Conference registration must be completed online, and youth under the age of 18 must be registered by a parent/guardian. Confirmation emails with event access details will be sent on Thursday, April 8.
title-inside title-centered
2