The End (almost)
They say "all good things must come to an end" but I wish that wasn't true in this case. I return to America in less than a week, and although I am excited to be reunited with my family and friends, I cannot help but admit that I could easily stay in Athens for another month (or two, or three). I have learned so much from AMURTEL and working at the street clinic, and I have made some incredible friends along my journey here.
My last day at AMURTEL was this past Thursday, and it was incredibly bittersweet (as expected). Businesses all around Athens close down for the entire month of August for summer holidays, and this is the first time AMURTEL will be joining that tradition. Because AMURTEL will be closed for a whole month, many pregnant women came in this last week to see the midwife for a final check up. They make follow-up appointments for early in September as many will give birth between now and the following month. The midwife, Marina, gave them iron tablets and prenatal vitamins as a parting gift to ensure a safe and healthy transition into motherhood.
I was also able to sit in on a reproductive health education session given by two student midwife volunteers from the United Kingdom. Many of the women, notably Arabic women, were asking questions about pregnancy and women's health. The student midwives created a PowerPoint presentation to explain the cycle of menstruation, as well as fertility and ovulation, to the Arabic women (with the help of our Arabic translator, Fatima). They also spoke about contraception, birth control, and the various ways to go about preventing pregnancies. My favorite part of this session was when our lactation consultant, Rebecca, asked the women about cultural myths and legends on how to have a specific gender. Although we know that it is biologically impossible to predetermine the gender of a fetus, there are myths in every culture that are passed down. The responses to that question were hilarious! My favorite reply was a woman who said if you have sex on a night with a full moon and successfully get pregnant, the child will be a girl.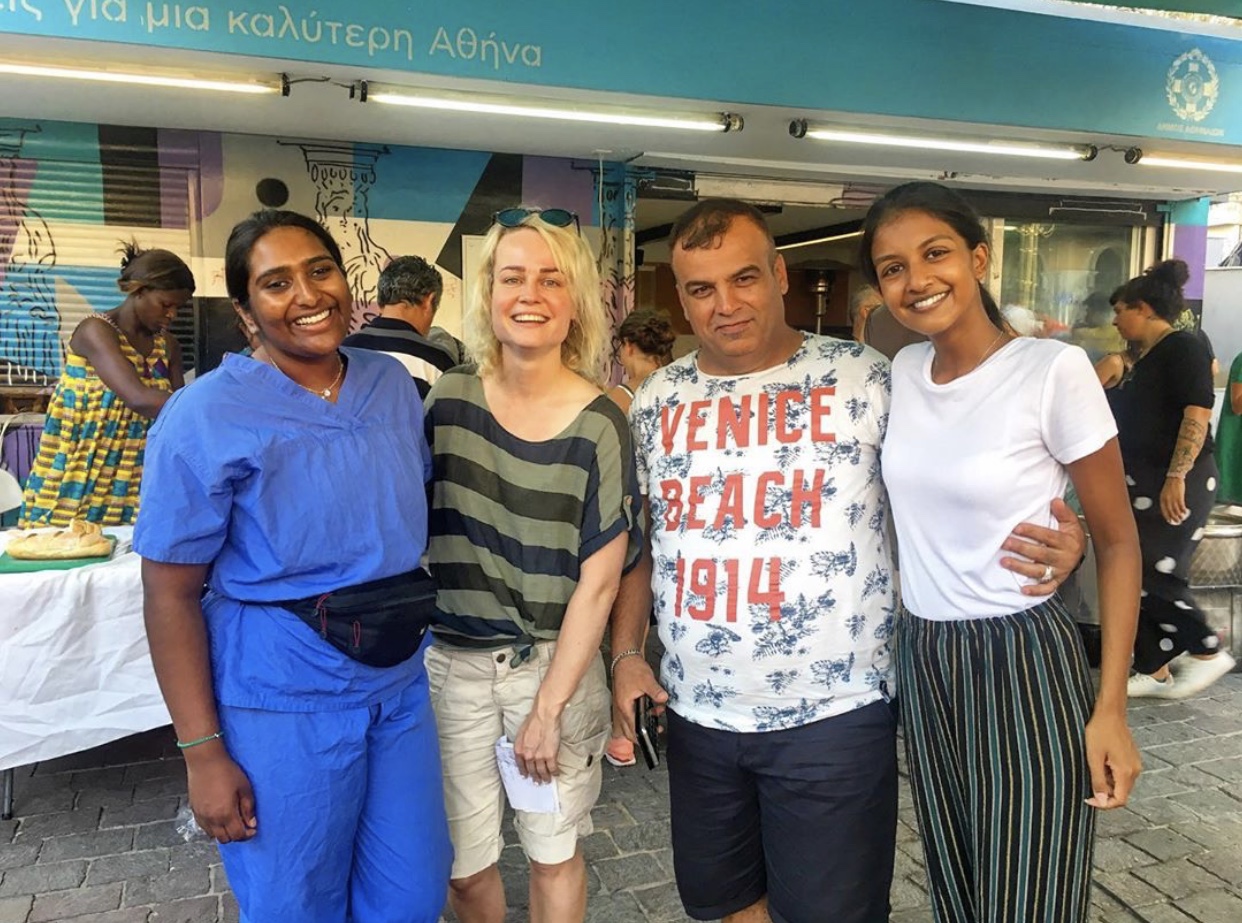 My work at the street clinic is also soon coming to an end, as I only have two more gatherings left to attend. I am so thankful for the opportunity to serve a different (but similar!) type of population in Athens in a different environment. I would compare my work in Athens and my work at the street clinic on opposite sides of the same spectrum. Although both populations are seeking healthcare and resources, AMURTEL is more slow-paced, pre- and post- natal care, and for refugee women and children. The street clinic is very fast-paced and provides emergency medicine for the homeless population and includes drug users and sex workers. Recently, many of the patients are coming in with scabies, lice, and bed bugs. Unfortunately, many of those same patients do not have access to shampoos, creams, or even washing machines to successfully eliminate the source of the problem. We give them as much as we are able to; however, in a three-hour clinic, resources run dry very quickly.
I can't help but reflect on the previous statements I made prior to my Moellership experience. I remember saying, multiple times, "I just want to help out in any way possible" when asked what I hope to accomplish during my time in Athens. After spending time here, I've realized it's not help that this underserved population needs; there is plenty of that from various volunteers and NGOs. It's someone to listen and empathize with their experiences. The fear that many of them felt during the election, the eviction from the squats, the struggle to access healthcare when they are ineligible for insurance, or the struggle to access healthcare even with insurance, but no public translator available in Greek public hospitals. I've understood that what I lack (currently) in abilities or qualifications, I can use to bring awareness to the current issues plaguing the refugee and homeless community in Athens. I recently received news that I have been accepted to present at the FSU DIRECTO symposium this fall, and I am excited to share my experience with the Tallahassee and FSU communities.
Although, admittedly, I am not looking forward to coming home, I am excited to return back to copious amounts of air conditioning. For now, I will be soaking up as much of the Athens sun possible and eating as many gyros I can before my return!
— Megha Patel