I'm always worried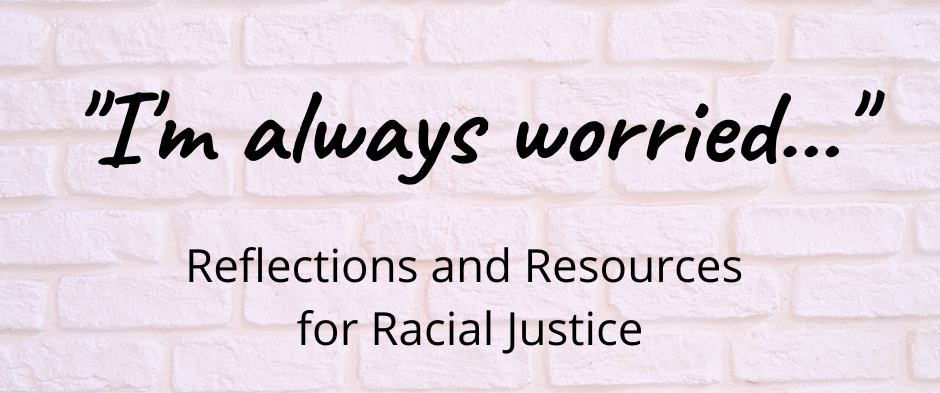 Ahem…I am not sure where to begin. I am the proud wife of a black man who loves to grow fresh foods, who served in the military, and who can hem a pair of pants like nobody's business. I am the proud mother of a talkative, inquisitive, and creative black boy. And I am a worrier.
I worry about everything. It really does not matter what it is. What most people do not know is that I worry a lot about my husband and son. I worry that everyday while I am at work that I will get a phone call that my husband has had an encounter with a police officer that has left me a widow. I worry that my beautiful, brilliant, energetic, outspoken, and never-meets-a-stranger son will be seen as a "threat" to someone when he only wants to ask them about their favorite Super Mario character or tell them about the latest Blaze and the Monster Machines episode. 
I try not to show my worry to them because I know it will heighten the stress I know my husband already has, and I want my beautiful boy to enjoy what it means to be five years old and only worry about the ants eating the watermelons in our garden before we can. 
And I have learned how to compartmentalize my fear and anxiety around my colleagues. As far as they are concerned, I am good. Meanwhile my tension headaches are coming more frequently, with tears that are never far behind, even if they never fall. And in the midst, I work every day. I go to all the Zoom meetings and laugh and smile and make small talk. I check in regularly with folks to see how they are doing and to offer my support. Every now and then I get "Enough about me, how are you doing?" but the question is always related to work. If I slightly hint at what is going on in the world, folks get uncomfortable. They give the nervous laugh and usually respond with "Yeah, it's crazy out there," and quickly change the conversation to work. And I smile, take a deep breath, and get to the business at hand. It is hard. But I keep going. We all keep going. 
In these moments I hear the sister scholar that I met years ago tell me, "They are waiting for you. Waiting for what you will do and who you will become. So, you cannot stop. You have to keep going."
So, I push forward despite the fear, tears, anxiety, and frustration. I move forward in ways that are authentic to me because my family and the black men and women that have yet to come into my life are waiting. They are waiting for me to influence, rewrite, and create policies that will call out and eradicate systemic injustices. They need me to understand the full scope of resources at their disposal to be able to protest, rally, and advocate for social change in ways that will lead to policy changes far beyond their time. 
It is in that spirit that everyone should take advantage of the range of resources available to you. The center has compiled a working (and not at all comprehensive) list of resources below that folks may find helpful during this time.  
 
— Dr. Joi Phillips, Center Co-director
CAre and Campus Resources
University Counseling Center
During online instruction, the UCC is offering Telemental Health Services and Telephonic Crisis Support to students at 850-644-TALK (8255).
Department of Student Support & Transitions
Black Student Union
BSU functions as a vehicle of communication to the faculty and administration of Florida State University. The Black Student Union seeks to develop unity among black students so that jointly and strongly they can express concerns and problems faced on campus.
The National Council of Negro Women
NCNW is a voluntary nonprofit membership organization with the mission to advance the opportunities and the quality of life for African American women, their families and communities. NCNW fulfills this mission through research, advocacy, national and community based services and programs in the United States and Africa. The FSU Section of NCNW was founded on February 10th, 1999 and it continues to fill the gaps that exist within the campus community, particularly in meeting the concerns of women of color.
Employee Assistance Program
The Employee Assistance Program is a confidential program that provides problem evaluation, brief intervention, referral (if needed), and follow-up services to help FSU employees in dealing with issues such as: marital and family conflicts, job stress, alcohol & drug abuse, financial difficulties, separation/divorce, grief/loss issues, parenting, relationship issues, anxiety/depression/ anger concerns, physical/sexual/emotional abuse, and communication problems.
Black Graduate Student Association
The Black Graduate Student Association (BGSA) is a student organization aimed at addressing the needs of black graduate students and providing opportunities for mentorship, service and building relationships between its members and other students and organizations.
Queer Trans Intersex People of Color
QTIPOC is a student organization dedicated to creating safe and inviting spaces for queer, trans and intersex people of color in the Tallahassee community.
ACLU at FSU
The ACLU is established to safeguard and promote civil liberties through pro bono legal opportunities and College of Law events. The ACLU is a student chapter of the state ACLU organization. We will coordinate pro bono opportunities for law students, host panels and lectures, and coordinate trips to national and state conferences. We will also provide networking opportunities.
NCBI @ FSU
Florida State University is proud to be a campus affiliate of the National Coalition Building Institute, an international, non-profit, leadership training organization that works to eliminate prejudice and discrimination throughout the world.
Diversity & Inclusion Office
By valuing, celebrating and leveraging the differences and similarities of our students, faculty and staff, we inspire an environment of innovation and passion - one that enables us to create a teaching, research and service environment that better reflects the needs of our students, faculty, staff, customers, constituents, communities and other key stakeholders.
This page offers grants, trainings, and other resources, especially for FSU faculty and staff. 
Community Resources
NAACP Tallahassee Branch
Founded Feb. 12. 1909, the NAACP is the nation's oldest, largest and most widely recognized grassroots-based civil rights organization. Its more than half-million members and supporters throughout the United States and the world are the premier advocates for civil rights in their communities, campaigning for equal opportunity and conducting voter mobilization.
Tallahassee Community Action Committee
Tallahassee Community Action Committee is a grassroots organization dedicated to fighting for peace and justice through direct action.
2-1-1 Big Bend
Helpline 2-1-1 is a hotline providing free access to information, referrals, and confidential telephone counseling services. We operate out of Tallahassee, FL and service the eight counties of the Big Bend area. By dialing 2-1-1, you reach caring, trained counselors who can provide supportive counseling and information about and referrals to programs in the community.
Tallahassee Human Relations Council
The mission of Tallahassee Human Relations Council is to serve in an advisory capacity to the Tallahassee City Commission and to the Equity and Workforce Development on issues presented to the Council. Some of these issues include: Promoting an understanding of human relations issues among and between members of the Council and the community, as well as internal diversity matters to improve the quality of life; Developing relationships between diverse community groups; Establishing an objective process by which issues related to diversity in the community may be proactively addressed.
Florida Resources
Florida Justice Center
Florida Justice Center is a nonprofit organization that is at the forefront of an emerging model of legal aid representation. We strongly believe that everyone is entitled to a diligent defense, an equal opportunity in court, and a helping hand to be successful.  Everyone makes mistakes and should be afforded a second chance, especially the youth of our society who have long lives ahead of them. We are opposed to the criminalization of poverty and the mass incarceration of people of color.  We are here to protect society's vulnerable and build healthy, productive futures.
Education and Action Resources
Black Lives Matter
Black Lives Matter Foundation, Inc is a global organization in the US, UK, and Canada, whose mission is to eradicate white supremacy and build local power to intervene in violence inflicted on Black communities by the state and vigilantes.
Campaign Zero
Created by members of Black Lives Matter, Campaign Zero is a comprehensive platform of research-based policy solutions to end police brutality in America.
Color Of Change
Color Of Change is the nation's largest online racial justice organization. We help people respond effectively to injustice in the world around us. As a national online force driven by 1.7 million members, we move decision-makers in corporations and government to create a more human and less hostile world for Black people in America.
American Civil Liberties Union
The ACLU dares to create a more perfect union — beyond one person, party, or side. Our mission is to realize this promise of the United States Constitution for all and expand the reach of its guarantees.
BEAM: Black Emotional and Mental Health Collective
BEAM is a training, movement building and grant making organization dedicated to the healing, wellness and liberation of Black and marginalized communities.  
Equal Justice Initiative
The Equal Justice Initiative is committed to ending mass incarceration and excessive punishment in the United States, to challenging racial and economic injustice, and to protecting basic human rights for the most vulnerable people in American society.
Social Justice Training Institute
The Social Justice Training Institute provides a forum for the professional and personal development of social justice educators and practitioners to enhance and refine their skills and competencies to create greater inclusion for all members of the campus community.
FSU College of Education Anti-Racism Resources
The College of Education has collected a "number of resources that not only discuss racism, but also teach anti-racism—that is the act of actively opposing racism and promoting racial equality."
Zinn Education Project
The Zinn Education Project promotes and supports the teaching of people's history in classrooms across the country. For more than ten years, the Zinn Education Project has introduced students to a more accurate, complex, and engaging understanding of history than is found in traditional textbooks and curricula.