Meet Mayada Elshiek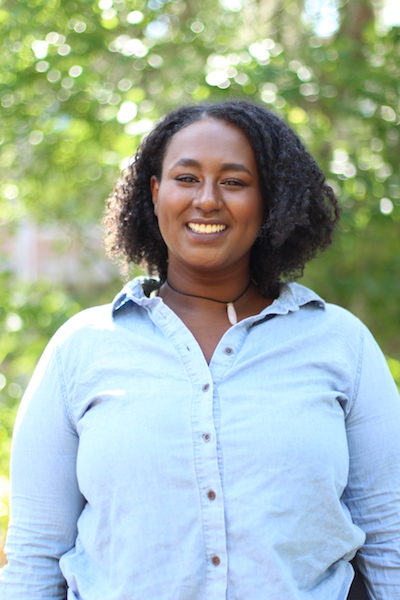 Name: Mayada Elshiek
Year: Junior
Anticipated Graduation Date: Spring 2020
Major: Biological Science – BS
Agency: Light of Hope Youth Initiative
Social issue: Education & Gender-Based Violence
Location of service: Machakos, Kenya
What would you tell others who were thinking of applying for the Moellership program?

I would tell others who were thinking of applying to the Moellership program to have a lot of their ideas and visions for the summer planned out as far in advance as possible, and to have backup plans for any agencies that are overseas. In my experience, contact with agencies in foreign countries without a common language was more difficult than expected, in addition to time zone differences. Overall, I would let them know it was an experience of a lifetime that seldom you will get in college, so to go for it.

What are you looking forward to the most this summer?

Part of the Light of Hope Youth Initative's mission is to help young women get back on their feet who have been subject to gender-based violence and aid in establishing a life after their trauma. This includes teaching them valuable skills like baking, sewing, and fostering hobbies like playing music and reading. I am most looking forward to both developing my own programs with the women affected by gender-based violence and also with the children in the schools around Kenya.

What about this summer makes you nervous?

I am quite nervous about both the language and cultural barrier. While English is typically the working language is often what is taught in schools, the local languages are Swahili and Kambu. I am nervous about being able to effectively communicate with the women and children in a language that I know is not their native tongue.

How did you first get involved with your service?

I first heard about Light of Hope Youth Initiative through my search of organizations that worked towards youth advocacy and healing from violence. I reached out to the director who informed me on the different motions he had in place for his organization and this summer will be my first opportunity to work alongside him and the other volunteers.

Career goal(s)/post-graduation plans:

Right after graduation, I plan on taking a gap year in order to engage in more volunteering and work as an EMT in the Sarasota County community. Afterwards, I plan on attending medical school to pursue being a neurologist.

What is your proudest accomplishment?

My proudest accomplishment would be being the first to attend and graduate from a university in the U.S. and pursue medicine as a profession. Being a first-generation American has had its challenges, but I am proud to say that I have been able to not come from much, and build a network from that.

What is something you can't live without?

My family is the only thing I couldn't live without. Having a support system to help in times of stress is something that is integral to me as a person and I don't know what I would do without that.

What is something that you wish you could take with you on your trip and why?

I wish I could take a close friend and a Wi-Fi router. I would take a close friend to make my surrounding a little more familiar, and Wi-Fi to ensure I had consistent access to internet in order to contact friends and family and stay up to date on what's happening in my area.

Most inspirational thing in your life so far:

My mother has been the most inspirational person in my life by a long shot. As a Sudanese woman, she was subject to a lot of intense cultural biases and discrimination, and dealt with a very corrupt government at a formative time of her youth. She engaged in protesting from the time when she was a teenager to protest against the Sudanese government, and was even tear gassed because of it. For all her strength and bravery, I aspire to be like her every day.

Top Values:

My top values would be compassion, sincerity, and humbleness. I firmly believe we are here on Earth to do good things for ourselves and others so I strive to be compassionate, sincere and humble.

Last Book Read: The last book I read was "Their Eyes Were Watching God" by Zora Neale Hurston.