Weekly Roundup - April 20
---
Weekly Roundup - April 20
Don't miss out on any of the programs and events offered by the Center for Leadership & Social Change, and find out about volunteer and related opportunities on campus and around the community.
---
Upcoming Center Programs
REGISTER FOR COMMUNITY DIALOGUE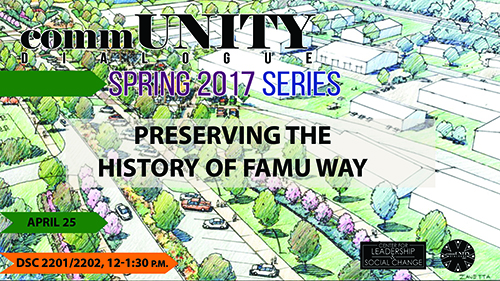 Register to attend the commUNITY Dialogue Series, "Preserving the History of FAMU Way," on Tuesday, April 25th in FSU Dunlap Success Center room 2201/2202 from 12 p.m. to 1:30 p.m.  The dialogue will focus on the research of four FAMU professors and will highlight the process of collecting and preserving the history of the residents of the communities, which currently make up FAMU Way.  The speaker is Dr. Reginald Ellis, Assistant Professor of History at Florida A&M University, who specializes in the history of Historically Black Colleges and Universities (HCBUs) and African American Leaders during the Jim Crow era.
Moellership Program Summer Sendoff

Apr. 21, 2-3 p.m.
Dunlap Student Success Center, Room 2201/2202
Join us in supporting the pre-departure experience of our 2017 Moellership Cohort, who will share their summer service plans, community partner information, learning goals, and more.
Light refreshments will be provided.
---
Campus Opportunities
VOLUNTEER WITH CHUCK IT FOR CHARITY
Chuck it for Charity is FSU's student move-out collection program where students, faculty, staff, and community members come together to collect items left behind in the residence halls, and donate it to community organizations. Volunteers are needed to help with collection and sorting from Thursday, May 4 to Saturday, May 6.
Earth Day Poster Session
The Geology faculty of the EOAS department are working to initiate an annual Earth Day poster session for undergraduates, graduate students and post docs on Friday, Apr. 21 from 9 a.m. to 3 p.m. in the Carraway Building. If researching in geology, and interested in presenting contact Dr. Mookherjee with your information. The FSUGS is catering lunch for those in attendance.
APPLY FOR UROP
Freshmen, sophomores, and incoming transfer students of all majors an disciplines are encouraged to apply for FSU's Undergraduate Research Opportunity Program. Through the program students will join a community of undergraduate researchers and UROP alumni, explore academic and career interests through faculty and graduate student mentorship, engage with research inside or outside of your  field of study, collect and analyze data with an established researcher or researching team, present findings at conferences, and gain hands-on knowledge of research principles. The program consists of conducting research 5-10 hours per week assisting a faculty member, Ph.D. student, or startup company, meeting bi-monthly with a UROP Student Leader and fellow UROP students, and presenting at the annual Undergraduate Research Symposium. The application deadline for current high school seniors and current freshman is May 1. The application deadline for transfer students starting at FSU in Spring, Summer, or Fall 2017 is July 1.
FSU Green Dot is excited to announce we will be hosting 2 more training sessions during the Spring '17 semester. Green Dot is a bystander intervention program that recognizes violence is not tolerated in our community and that we all have a role to play in eliminating it. A Green Dot Bystander is someone who uses the 3 D's (Direct, Delegate, and Distract) to intervene in reactive situations or proactively promotes the importance of a violence free community. Please visit our website for more information on the program and to add your Green Dots to the map. Also don't forget to like us on Facebook and follow us on Twitter and Instagram!
This interactive training will seek to empower all of us to find ways to be active bystanders and create a community that does not tolerate violence and recognizes that we all have a role to play in ending it. Lunch will be provided. Those in attendance will receive a certificate of attendance and a Green Dot tee-shirt upon the completion of the training.
Training space is limited so if you're interested, sign up today! Click below to register.
Saturday, April 22, 10 a.m.-4 p.m.
Sexual Assault Awareness and Prevention Month
April is national sexual assault awareness and prevention month. Check out the following events and engage in the discussion.
Apr. 22nd, 10 a.m. - 4 p.m.: Green Dot Bystander Intervention Training
Email jcarval@fsu.edu to register.
---
Community Opportunities
The March for Science is a world wide movement demonstrating a passion for science and sounding a call to support and safeguard the scientific community. The March For Science is a non-partisan movement that will be held in over 400 satellite marches worldwide. The March For Science will be held on April 22. The march towards the capitol will begin at 12 p.m.
Healthy Communities Festival seeks volunteers
The Tallahassee Healthy Communities Festival seeks volunteers on Saturday, April 22 at Cascades Park from 9 a.m. to 2 p.m. Volunteers are needed for shift 1 from 7 a.m. to 11 a.m. and shift 2 from 11 a.m. to 3 p.m. Shift 1 will include setting up chairs and tables, assisting exhibitors, staffing the registration tent, and greeting festival attendees. Shift 2 will consist of customer service, assisting exhibitors, greeting festival attendees, breakdown, and clean up. The festival will include more than 50 exhibitors promoting sustainability, wellness, and the importance of building a healthy community. Attendees will be able to enjoy music, live entertainment, interactive activities, demonstrations, food vendors, and games.
Children's Home Society of Florida seeks volunteers
The Children's Home Society of Florida is hosting its annual event, the Chef's Sampler, on April 23 at the Centre of Tallahassee. Volunteers are needed for multiple shifts from 6 p.m. to 9 p.m. If interested in volunteering, in order to bring life-changing services to abused, neglected, and abandoned children the Big Bend area, email Mary Pittman at mar.pittman@chsl.rg or call (850) 209-3799. Volunteers will receive free entrance to the event and will have a break in order to enjoy refreshments.
VOLUNTEER WITH ST. JUDE RUN
The 2017 St. Jude Run to End Childhood Cancer is on Saturday, Sept. 16 at SouthWood Town Center. Volunteers are a part of the planning committee and subcommittee. Those with experience in event planning and looking to develop those skills including team development, marketing, sponsor-ships, and event logistics are encouraged to join. Contact Marie Lofton at Marie.Lofton@stjude.org or Matt Aldrich at mta@aldrichllc.com.
KIDSFEST SEEKS VOLUNTEERS
Volunteer for the 16 annual Kidsfest on Sat. April 6, from 10 a.m. to 3 p.m. at Cascades Park. Kidsfest is supporting Kids Incorporated of the Big Bend to serve pregnant women and families with infants and toddlers through age 3 in Jefferson, Leon, and Madison counties. The event will include hands-on activities and live entertainment for the kids.
Alzheimer's Project, Inc. seeks Volunteers
The AmeriCorps Legacy Corps Program and Alzheimer's Project, Inc. are seeking volunteers to provide in home respite to caregiver's of persons with Alzheimer's disease and related dementias. Volunteers would receive intensive training, a monthly stipend, an educational award scholarship for 450 service hours, student loan forbearance for the duration of the service, and would have to volunteer for 12 hours per week. The position ends in October 2017. Volunteers must consent to a level 2 background check and must have reliable transportation. For more information contact Fabiola G. Jean-Charles at 850-386-2778 or fabiola@alzheimersproject.org.
---
Scholarships, Internships and Jobs
Apply for recycle bike program coordinator
FSU Sustainable Campus seeks a a reCycle Bike Program coordinator for the the Fall 2017 and Spring 2018 semesters. The coordinator is responsible for monitoring and providing basic upkeep of refurbished bicycle fleet, holding bike distributions and bike returns each school year, working with University Cycles, developing and maintaining an active programming schedule, maintaining a social media presence, communicating with renters, and tracking student bike renters, distribute contracts, and maintain program files. The coordinator is required to work 20 hours per week, attend all bi-weekly Sustainable Campus staff meetings, work with Sustainable Campus staff, meet with Sustainable Campus Program Coordinator bi-weekly, maintain professional dress and demeanor during office hours, and attend the Sustainable Campus Staff Retreat. Coordinator should be passionate for environmental and social sustainability, be familiar with Tallahassee bike routes, be able to multi-task, be creative, be comfortable speaking to large groups, be knowledgeable of social media, have leadership experience, and be knowledgeable of bike riding etiquette, safety, and basic repair 
FSU Sustainable Campus seeks graphic designer
Students are invited to apply for a paid position as a graphic designer for FSU Sustainable campus for the Fall and Spring semester next academic year. As a graphic designer the student will design and produce various marketing materials, maintain folders and files on programs, and be innovative. The graphic designer will be required to complete 20 hours per week, attend all bi-weekly Sustainable Campus staff meetings, work with Sustainable Campus staff, be available to support Sustainable Campus programs and events, maintain professional dress and demeanor during office hours, and attend the Sustainable Campus Staff Retreat before the Fall semester and Chuck It for Charity at the end of the Spring semester. Applicants should be knowledgeable of environmental and social sustainability efforts, be able to accept constructive feedback, have a friendly disposition, and have experience with Adobe Illustrator, Photoshop, and InDesign. Students with Adobe Premiere Pro or Adobe Audition experience, basic knowledge of social media, and familiarity with on-campus organizations are encouraged to apply. 
APPLY FOR FRONT DESK ASSISTANT
The Student Activities Center is seeking a student to work the entire summer as a front desk assistant. Assistant must be able to start working May 5. Interviews will take place in April. In order to apply, send a resume to LaToya Brown at lbrown5@fsu.edu.
Apply for the Witnessing Change Video Competition
Climate Cost Project is holding a Witnessing Change Video competition for students to record the impacts of climate change within their own communities and raise awareness of these local impacts. Submissions are due by May 1.
UNESCO Global Action Program on Education for Sustainable Development's annual essay contest aims to further the world's youth initiative on sustainable development and peace. Essays must be 700 words or less and can only be submitted by individuals up to 25 years old. This year's topic is on what can be learned from nature and how human beings can use that knowledge in the future. Entries must be submitted by June 15. 
RB Oppenheim Associates and Digital Opps Seek Interns 
RBOA and Digital Opps seek student interns for summer 2017. Interns will assist with promotional projects, event planning, press conferences, and digital marketing. Candidates should be majoring in public relations, digital design, or a related field. Candidates should also have strong writing and research skills.