Weekly Roundup- Aug.31
Don't miss out on any of the programs and events offered by the Center for Leadership & Social Change, and find out about volunteer and related opportunities on campus and around the community.
---
Upcoming Center Programs
Peacejam info session

 Wednesday, September 6 at 5:00 p- 6:00 p
 Global and Multicultural Engagement (The Globe) (GME)
 Auditorium
PeaceJam is an international education program built around Nobel Peace Prize Laureates who work personally with youth to pass on the spirit, skills, and wisdom they embody. The goal of PeaceJam is to inspire a new generation of leaders who will transform themselves, their local communities, and the world.
Come learn how you can become involved!
FLORIDA STATE ALTERNATIVE BREAKS

Florida State Alternative Breaks facilitates accessible service immersion experiences for students to create sustainable change in partnership with local, national, and international community organizations and their constituents. FSAB participants will practice active citizenship by grounding their engagement in intersectional and contextual knowledge of a community need, partnering with host community members to create meaningful change, and engaging in sustained social change practices after returning to their home communities.
Space on Alternative Breaks trips are limited, so students who wish the attend must complete an application. All applications are due by Oct. 4.
WOMEN's leadership institute

Rooted in the belief that leadership is learned through experience, education and reflection, WLI will focus on women's leadership development, create a dynamic learning environment, and invite FSU women students to learn with and from FSU women faculty, staff and alumni. This year's Women's Leadership Institute will be held Oct. 27-29 on Florida State's campus.
Participant applications are due by 11:59 p.m. on Sept. 22.
SEC mentoring program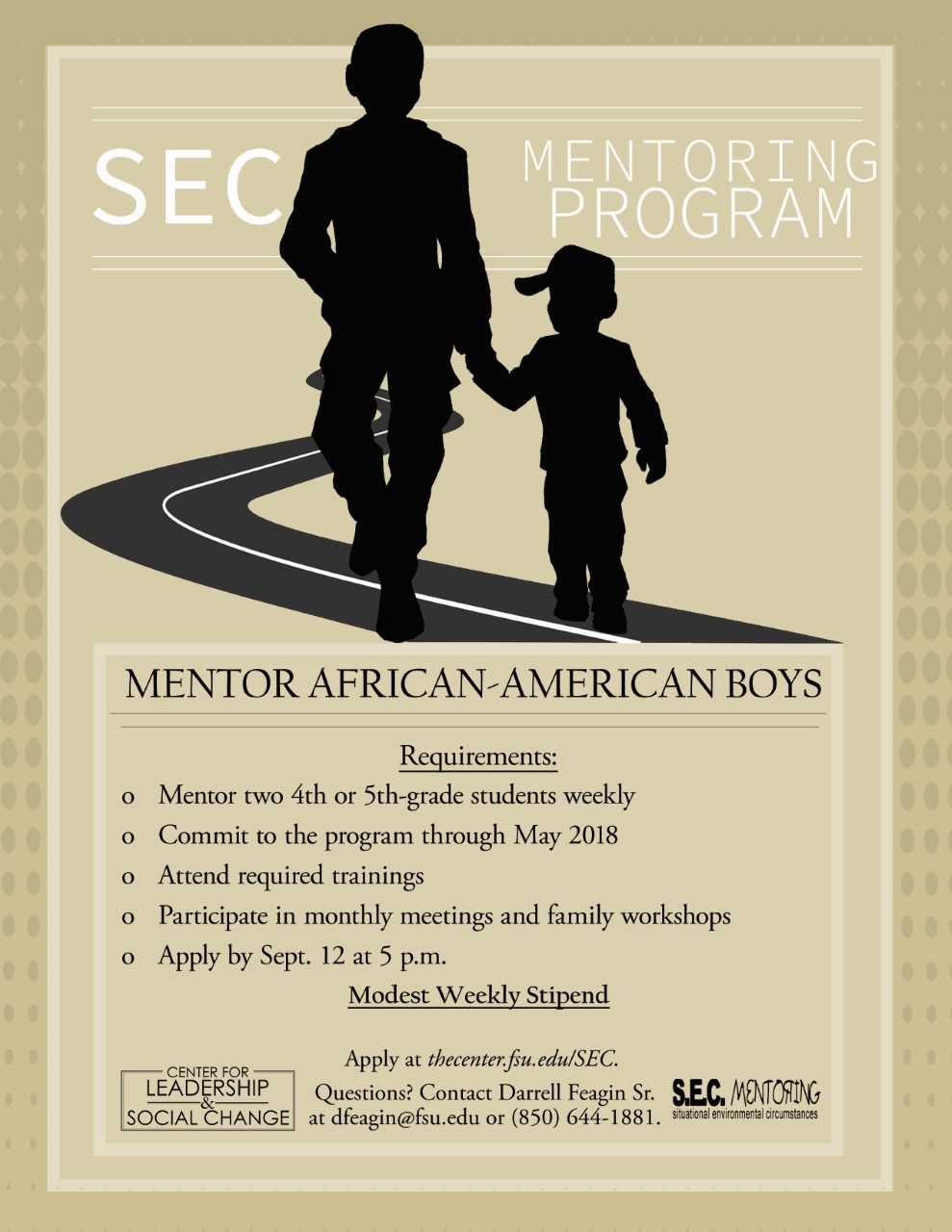 The SEC Mentoring Program provides academic support to African-American males in fourth and fifth grade and works to identify risk factors in the areas of individual, family, education and community. Mentors will mentor two students weekly for the entire academic year.
Requirements:
Commit to the program through May 2018
Attend required trainings
Participate in monthly meetings and family workshops
---
Campus Opportunities
battle for the bucket drive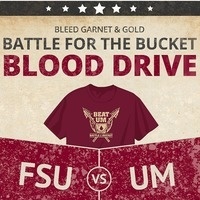 Tuesday, September 5 at 11- 5:00 p
 Oglesby Union
The ninth annual Battle For The Bucket Blood Drive will be kicking off again this fall where FSU and UM will compete to see who will receive more blood donations. Come save a life from 11 a.m. to 5 p.m. Tuesday, Sept. 5 through Thursday, Sept. 7, at the Oglesby Union and Strozier Library. All donors will receive a limited edition shirt. For more information, visit oneblood.org.
JOIN renew

RENEW is a peer education organization affiliated with the University Counseling Center. We offer presentations and peer to peer educational sessions with students on topics such as stress management, time management, study skills, conflict resolution, and healthy relationships as well as promote the University Counseling Center through outreach opportunities. We help the Counseling Center with university-wide events such as stress buster day and mood check-up day.
black mirror's "nosedive": an event about internet authenticity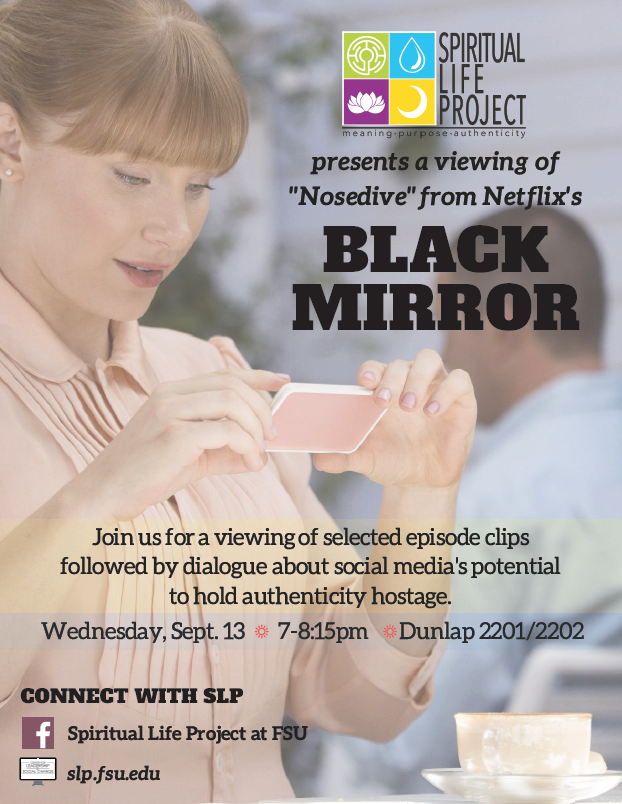 Wednesday, September 13, 7-8:15 pm
 Global & Multicultural Engagement Building (GME)
 Room 2500
Join us for a viewing of selected clips of "Nosedive" followed by dialogue about social media's potential to hold authenticity hostage. Whether you are a new, old, or never-before fan of Black Mirror, come check it out! (We promise this episode isn't scary.)
ecofeminism 101: exploring spritual, gender, and environmental intersections
Wednesday, September 27, 12-1:15 pm
Global & Multicultural Engagement Building (GME)
Room 2500
We welcome anyone with an interest in spirituality, gender, environment, and any other systems framed by patriarchal constructs to a conversation about ecofeminism. Ecofeminism is a theory linking women's domination, animal domination, and the natural world's domination by men as parallel to one another. Participate in an intriguing and challenging dialogue about intersectional liberation.
community garden project
DATE: Tomorrow, Friday, September 1
TIME: 2:00PM – 5:00PM
WHERE: Joseph B. Whitehead Boys & Girls Club, 1900 Lakewood Ave., Atlanta, GA 30315
Join Allstate alongside ESPN's Kirk Herbstreit and pro football players Devonta Freeman and Courtney Upshaw to go All Hands InSM to build a new community garden at the Joseph B. Whitehead Boys & Girls Club tomorrow! Allstate is bringing community members and FSU and Alabama fans together before the big Chick-fil-A Kickoff Game to help us build the new garden, and we need your help!
· You could have the chance to win tickets to the Chick-fil-A Kickoff Game and autographed items from Freeman and Upshaw*
· Free t-shirts will be provided for all volunteers
· Light refreshments will be provided
Come join the fun and participate in planting the garden's first seedlings, decorating the planters, and putting the final touches on the garden! Eligible participants may enter the sweepstakes upon onsite volunteer registration at the volunteer check-in table.
For questions, reach out to Kelly.Naughton@uegworldwide.com
Volunteer with pre-k reading program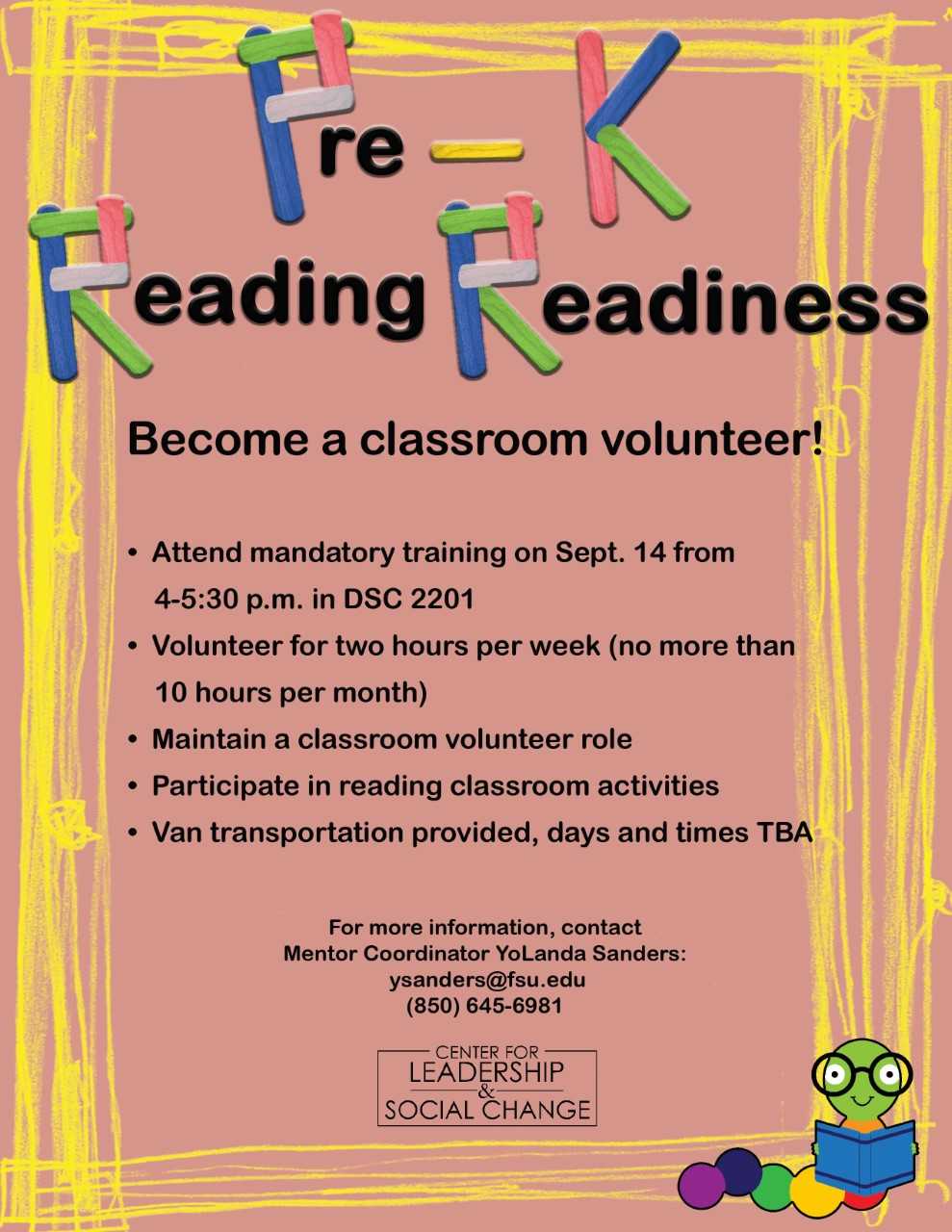 Volunteer to read to Pre-K students in the local Tallahassee area. Participants must attend a mandaotry training on Sept. 14 from 4-5:30 p.m. in DSC 2201. Van transportation will be provided.
Contact Mentor Coordinator YoLanda Sanders at ysanders@fsu.edu for more information and any questions.
Volunteer with the recycle bike program
Students are preparing to return to FSU's campus and the reCycle Bike program needs volunteers for our Fall 2017 Bike Distribution for the following stations:
A crash course will be taught on how to fit people for bicycles, how to mount lights, and how to properly use bike locks.
Interested? More info here!
volunteer with garnet & gold goes green
Garnet & Gold Goes Green (G4) is a gameday recylcing program with FSU Sustainable Campus. Volunteer and help fans recycle their plastic aluminum, and glass. All G4 hours count as service hours on your ServScript form! Free shirt! Free food! Pleas arrive to Gate D 2.5 hours before kickoff.
Saturday, September 9 at 4:30 PM. Doak Campbell Stadium (Gate D)
re-recognize your rso today
The process to re-recognize your RSO is open. As a reminder, it is the responsibility of the current president, or at minimum another individual who will be serving as an officer for 2017-2018, to complete this process. The easiest way to access the recognition application under the new Nole Central upgrade is:
1. Once you log-in, click the Organizations tab.
2. Scroll down and click Register an Organization.
3. Use the search function to find your organization and click the blue Re-Register* button to begin the application.
---
Community Opportunities
volunteer with communities in schools (CIS)
As a CIS volunteer, you can help at-risk students in your own community. CIS partners with Leon County Schools to provide mentoring to students in low performing elementary schools. These students are economically disadvantaged, and over half of them perform below grade level in reading and math. Volunteers work with students in small group settings. They may listen to students read, help them with math flash cards, or show them how to count money.
You must be 18 years of age or older, attend a 1.5 hour training session, and pass a criminal background check to volunteer. One hour per week from late September through April is required to participate. Christmas break, spring break, and holidays excluded. Total annual commitment for the year is approximately 30 hours.
Contact Volunteer Manager Emily Fritz at fritze@cisfl.org or (850)-201-9756 to sign up.
become a mentor with cobb middle school
Mentors assist students throughout the school; all teachers participate! Mentors are not just for academic support; we want to offer the students a reliable adult who makes time for JUST THEM. Therefore, mentors meet with their mentees on a weekly basis for roughly an hour (one period). They come at the same time every week, during one of their mentees elective classes.
Anyone interest in mentoring or volunteering with Cobb should go online and complete the Volunteer Application for Leon County Schools. If they wish to mentor, there will be a button to select towards the bottom of the application that will open a few additional questions for the mentor to complete. There is a brief training workshop hosted by the district for volunteers and mentors. Any fingerprinting that needs to be done will be paid for by Leon County Schools.
calling volunteers-register for coastal cleanup

Keep Wakulla County Beautiful will be hosting the International Coastal Cleanup on Saturday, September 16.
Last year we collected tons of debris thanks to volunteers like you who took the time to get involve and make a differene. We hope you will join us for the cleanup, free hot dog lunch, prize drawings and complimentary tee shirts (while they last).
VOLUNTEER WITH the 21st cclc program
Florida's 21st Century Community Learning Centers are looking for volunteers and mentors to assist with the 21st CCLC Program Monday-Friday from 3:00PM-6:00PM. Volunteers and mentors schedule can be flexible. Volunteers will assist students with STEM, homework, and literary activities. Volunteers will not have to undergo background checks.
Contact Victoria Smith at victoria@uwbb.org for more information.
---
Scholarships, Internships and Jobs
Child Defender Fellowship
In 2017, CDF will launch the CDF® Child Defender Fellowship. This program will provide training and engage participants in collective nonviolent action to positively impact children's issues at the national, state and local levels.  Fellows can expect to gain critical knowledge on policy and legislation, learn about the history and tactics of nonviolent organizing, and practice applying those skills in the community including promoting local awareness, showing the local impact of policy, direct engagement with legislators, constructive programming, and building a team. This learning environment will be a web-based, virtual community for action, from October 2017 to June 2018. Over this period, Fellows will engage in approximately twenty learning sessions which will be accompanied by actions that each fellow can take in their communities.  Complete the interest form here.  Contact Madison Sampson at msampson@childrensdefense.org or (202) 662-3589 for more information. Learn more about the Children's Defense Fund at childrensdefense.org.
PAid sodexo sustainability intern
The Sodexo Intern will perform and train in various responsibilities under their career concentration. Sodexo is looking for someone who is willing to be open to learning and growing. Maturity of judgment and behavior. Maintains a positive attitude. Ability to work a flexible schedule helpful. 
Apply at: sodexo.balancetrak.com | Requisition Number: 2017-16264
Turn About Inc of Tallahassee seeks social services administrative assistant
Turn About, Inc. of Tallahassee is a local non-profit treatment facility for adolescents, young adults and their families who may be experiencing mental health and/or substance abuse problems.  They are in need of a Social Services Administrative Assistant to perform office duties.  Turn About is particularly seeking applicants majoring in the helping professions (Social Work, Psychology, Counseling, Nursing, etc.).