Graduates celebrate academic journeys at cultural graduation
---
Graduates celebrate academic journeys at cultural graduation
This year's graduates and their supporting communities had the chance to celebrate, reflect, and recognize each other on their collective journeys to the V-rak-ke-ce-tv Cultural Graduation stage.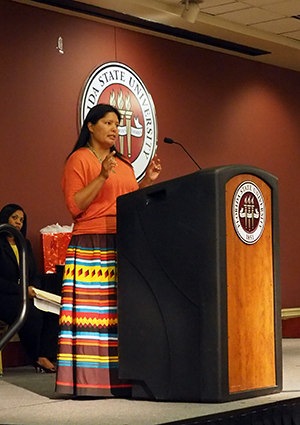 Carla Gopher, the first female FSU graduate from the Seminole Tribe of Florida, spoke Thursday to nearly 200 graduates and their supporting communities about the importance of honoring each other, everyone's collective journeys, ancestry and time.
Quoting her mother's 2014 FSU commencement address, Gopher said "We move most confidently into our future when we are aware of the past."
Gopher spoke about her own life journey upon graduating FSU, and how she came to honor her values as well as the heritage of her family, her tribe, and her ancestry. She concluded her speech with a call for graduates to do the same.
"I found a way to honor myself, honor my family, my ancestors. I advise you to learn your culture, your heritage," Gopher told the students, advising them to speak to their elders and share their culture. "That is the way to identify yourself."
The name "V-rak-ke-ce-tv" is the Seminole Creek phrase meaning "to honor," and the ceremony is meant to honor students' accomplishments through their journey, honor their families and friends for their continued support, and honor what it truly means to be a Seminole.
Each graduate was celebrated with friends, family members and mentors placing a stole bearing the colors of the Seminole tribe over their shoulders.
Florida State University's cultural graduation ceremony program maintains a relationship with the Seminole Tribe of Florida and works to highlight and honor Seminole culture and tradition.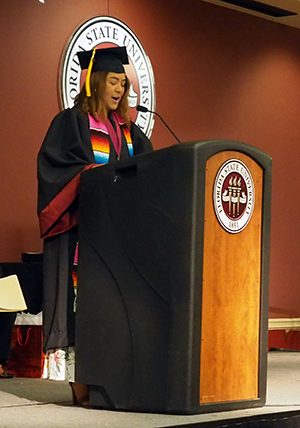 Graduate Stephanie Urbina stayed true to her heritage, her communities, and her journey during her senior reflection speech by incorporating inspiring and celebratory messages from her family. She spoke of her own collegiate career and transformations she experienced through the mentors and friends she describes as her "chosen family."
Despite the struggles and long nights to get there, graduation is the place to showcase "those that triumph," Urbina said, a nod to advice from her grandmother that those who persevere triumph.
She urged graduates to acknowledge those who aided their collegiate journeys and celebrate everyone's collective achievements.
Urbina called for her fellow graduates to celebrate the moment: "Don't forget to look around and see how lucky we are to be here right now."
"Everything has its time," Urbina added, "and this is our time."
— Talise Burton