Weekly Roundup Feb. 22
Don't miss out on any of the programs and events offered by the Center for Leadership & Social Change, and find out about volunteer and related opportunities on campus and around the community.
---
Upcoming Center Programs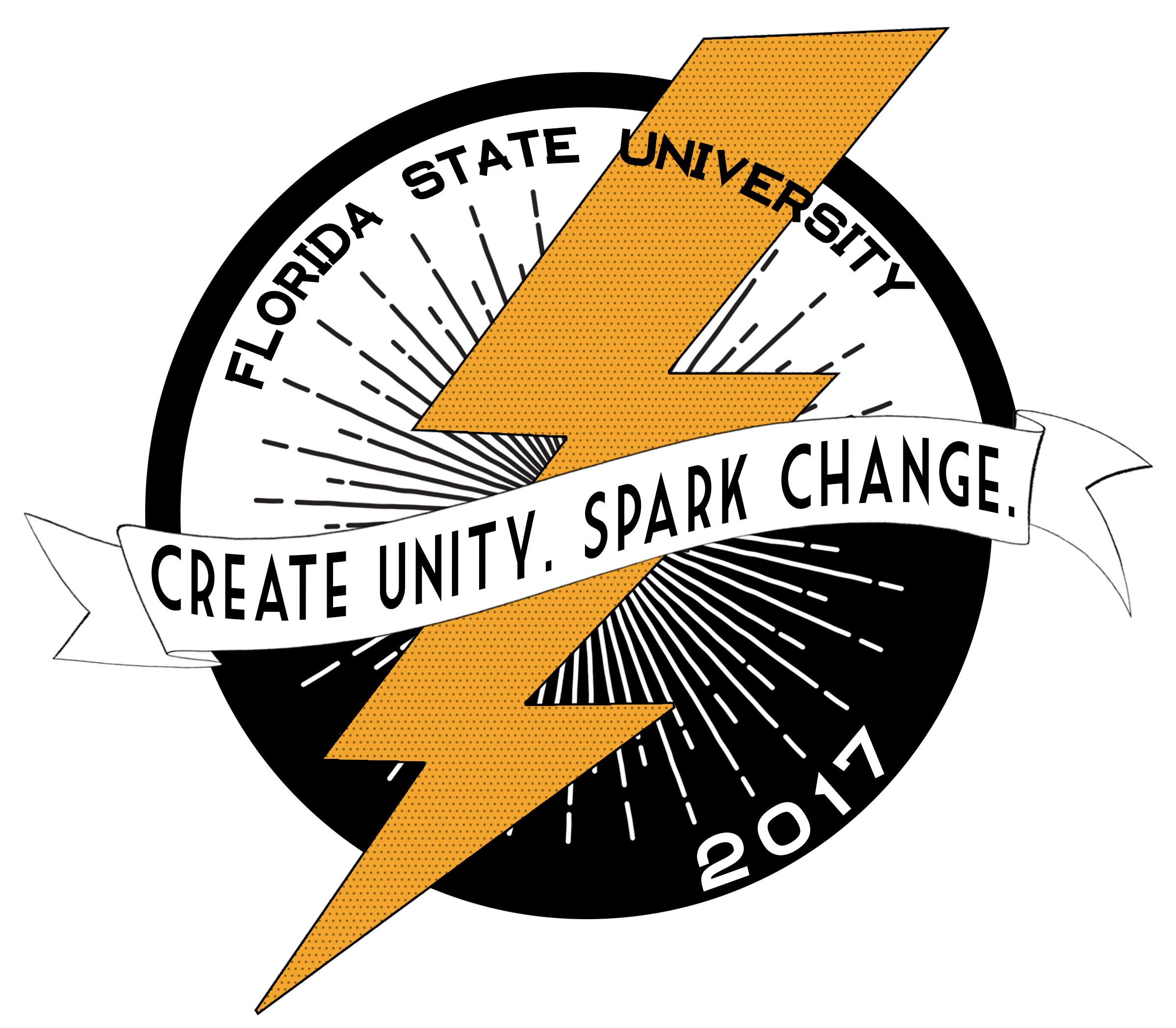 LeaderShape® at Florida State University hosts a session of the Institute which challenges participants to lead with integrity while working toward a vision grounded in their deepest values. Participants explore not only what they want to do, but also who they want to be. During the week, participants will have an opportunity to meet and work with more than 130 students from diverse backgrounds, as well as create a personal vision—an individual commitment to creating a positive change in the world.
The 2017 application is due by Sunday, Feb. 26 at 11:59 p.m. Eastern time.  
Those who have questions about the program or application are invited to attend one of two short, optional information sessions:  
POLICING IN THE U.S.: THURSDAY BROWN-BAG SERIES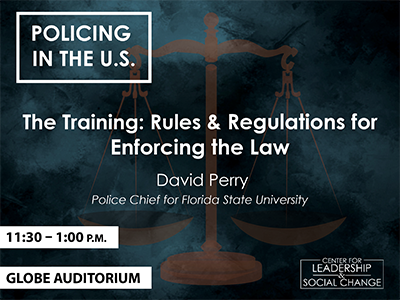 Globe Auditorium
11:30 a.m. - 1:30 p.m.
Each topic in this series will feature the perspective of an activist, officer, and academic as we examine the enforcement of law and order in our Republic.
March 2 - The Training: Rules & Regulations for Enforcing the Law (featuring David Perry, Police Chief for Florida State University)
March 23 - The Interaction: What to Know. What to Do. (featuring Diop Kamau, Civil Rights Activist & Police Abuse Investigator)
For questions, email Steve Mills at smills@fsu.edu.
"STUFF THE BUS" TO FIGHT HUNGER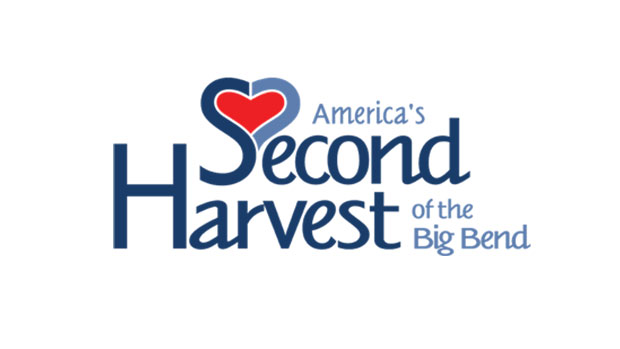 StarMetro and America's Second Harvest of the Big Bend are teaming up to fight hunger in our community with the Stuff the Bus campaign.
One in six people are food insecure in the Big Bend region – questioning where their next meal may come from. With your support, we will Stuff the Bus with nutritious foods, which will provide meals for our neighbors in need.
Through Feb. 25, the Center for Leadership & Social Change will collect non-perishable food items for the campaign in a collection box in the lobby of the Dunlap Student Success Center. Most needed items include canned fruits and vegetables, canned meats (tuna, chicken), cereal, hearty soups and stews, and peanut butter.  For more information, contact Paige Rentz at prentz@fsu.edu.
Current FSU undergraduate students and incoming freshman are invited to apply for the Seth Rossetti Memorial Scholarship. The Seth Rossetti Memorial Scholarship was established in 2006 in memory of Seth Rossetti. The purpose of this scholarship is to support one undergraduate student who is presently or was a child of a single parent. This scholarship is available to all current FSU undergraduate students with a minimum 2.5 cumulative grade point average and all incoming FSU freshmen with a minimum 3.0 high school cumulative grade point average. One recipient of the scholarship will be awarded $1,000. The application deadline is Friday, Apr. 13 at 11:59 p.m.
---
Campus Opportunities
2017 MIDDLE EAST FILM FESTIVAL
Askew Student Life Center
Feb. 22, 6 p.m. - Short Films (Waves '98, The Cup Reader, Transit Game, Dry Hot Summers)
Feb. 22, 8 p.m. - Tickling Giants
Festival films and events are all free to the general public.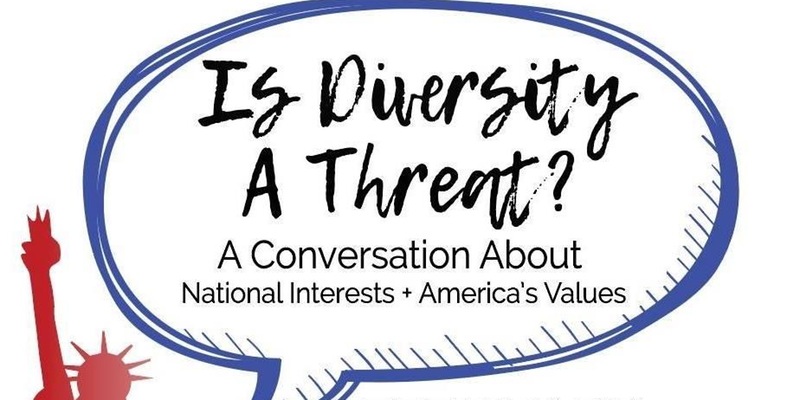 Feb. 27, 6-8 p.m.
Augustus B Turnbull Conference Center
555 W Pensacola St.
Tallahassee, FL 32301
As our nation wrestles with the implications of a recent executive order prohibiting millions from entering the country, we find ourselves asking some fundamental questions. Does diversity jeopardize our safety? Some agree and point to national security. Others mount a passionate defense of our founding principles. Interests vs. values - do we have to choose?
Our answers have consequences. Join us for an evening of dissecting these complex questions interspersed with statistics and stories from experts and everyday members of our campus community.
BSU PRESENTS BLACK HISTORY MONTH: THE EVOLUTION OF ROYALTY
In honor of Black History Month, the Black Student Union has created a dynamic month of events that celebrate and honor the many achievements and contributions made by African-Americans to the economic, cultural, spiritual, and political development of the U.S.
For a full calendar, visit @FSU_BSU on Instagram, or reach out the BSU Master coordinators at fsubsumastercoordinators68@gmail.com.
FSU Green Dot is excited to announce we will be hosting 2 more trainings during the Spring '17 semester. Green Dot is a bystander intervention program that recognizes violence is not tolerated in our community and that we all have a role to play in eliminating it. A Green Dot Bystander is someone who uses the 3 D's (Direct, Delegate, and Distract) to intervene in reactive situations or proactively promotes the importance of a violence free community. Please visit our website for more information on the program and to add your Green Dots to the map. Also don't forget to like us on Facebook and follow us on Twitter and Instagram!
This interactive training will seek to empower all of us to find ways to be active bystanders and create a community that does not tolerate violence and recognizes that we all have a role to play in ending it. Lunch will be provided. Those in attendance will receive a certificate of attendance and a Green Dot tee-shirt upon the completion of the training.
Training space is limited so if you're interested, sign up today! Click on the appropriate link below to register.
Saturday, March 4, 10 a.m.-4 p.m.
Saturday, April 22, 10 a.m.-4 p.m.
FRN fights food waste and hunger by recovering extra perishable items from our campus and the surrounding community that would otherwise go to waste and donating it to people in need. Join the team and help with collections around campus!
Email Gabby at gam14@my.fsu.edu.
ALPHA PHI OMEGA LAUNCHES BINDER FUNDRAISER

Alpha Phi Omega is proud to announce an ongoing fundraiser to purchase binders for transgender and otherwise gender non-conforming people at Florida State University! We are currently offering options from GC2B and Underworks. Students can complete this form to sign up for a free binder.
The co-ed service fraternity also hosts a table every Monday from 11 a.m.-2 p.m. between the HCB and Union where members accept donations for the project and provide information to people who have questions about trans issues. The chapter's treasurer, Paul Sempé, also accepts donations for the project through Venmo at @TreasurerAPO (include a note indicating its purpose).
ESP is a student-run organization which aims to engage students and community members with the environment around them through education, service, and advocacy. We focus our activities on the Red Hills bio-region surrounding Tallahassee, conducting educational service field trips and hosting speakers on pertinent environmental topics, encouraging sustainable lifestyles that connect humans with the environment. We take an active approach, empowering students to take action on important issues they feel strongly about as well as volunteering for causes.
HABITS OF HAPPY PEOPLE
Habits of Happy People is a workshop series that is sponsored by the University Counselor Center's Resiliency Outreach Campaign. The UCC will host a workshop series that offers five workshops for students on a drop-in basis. The workshops will focus on ways students can maintain and increase their strengths to enable them to not just cope with the semester, but also thrive! The Habits of Happy People Workshop Series is designed to help students cultivate what is best within themselves and to enhance their experiences of relationships, work and fun.
Workshops are hosted on Wednesdays from 1:30-2:30 p.m. in the Health and Wellness Center Room 2500.
March 1: "Take a Breath: Using Yoga and Mindfulness to Savor the Now"
March 8: "Laugh Hard, Play Hard: Rediscovering the Benefits of Humor and Play"
---
Community Opportunities
Paul Russell Road 4H Youth Group Seeks Volunteers
The Paul Russell Road 4H Youth Group seeks volunteers for their Junk Drawer Robotics and STEM program on Saturday, Mar. 25 at 3 p.m. Volunteers would assist in youth supervision and activity coordination. For more information contact, Dr. Jacquelyn McMillan at jacquelyn720@gmail.com or 850-321-5515
TREE HOUSE OF THE BIG BEND: FAST CARS & MASON JARS
Fast Cars & Mason Jars is the annual fundraiser benefiting Tree House of the Big Bend, and will be held on Saturday, Feb. 25. It is a country-chic themed event that includes dinner, music, dancing, and a live auction. The event depends on volunteers to be successful and provide much needed funds to Tree House of the Big Bend. All of the funds raised support necessary upkeep and house renovations, as well as items the children need like bedding, clothing, counseling, food, school supplies, toys, and birthday and holiday gifts. Volunteers are needed on Saturday, Feb. 25.
For more information on the event, view their Facebook event.
Volunteers that will be working during the event, should just wear country/chic attire. This is an excellent opportunity for students interested in events to assist with an upscale fundraiser that includes a large live auction!
To volunteer, please click here.
FSU Childcare Seeks Suessical VoluntEers
FSU Childcare is in search of volunteers to help with activities for its Dr. Suess celebration.
Mar. 2, 4-6 p.m.
169 Herlong Dr. Tallahassee FL (near Innovation Park)
Ten volunteers are needed to run games, activities, serve food and other fun duties.
If interested, please contact Brenda Thompkins at 850-644-7970 or bthompkins@admin.fsu.edu.
Mar. 4
12-5 p.m.
LUNAFEST is a traveling film festival of award-winning short films by, for and about women. This season, their program of nine films – filled with stories of reflection, hope and humor – will travel to over 175 cities and screen in front of 25,000 people. 
Each year, various organizations bring Lunafests to their communities and raise funds for their local non-profits as well as their main beneficiary, Breast Cancer Fund.  An automatic 15 percent of all profits will be donated to the Breast Cancer Fund, and another portion will directly benefit the BPW Scholarship House at Southern Scholarship Foundation for this year's event.
Lunfest hopes to to partner with organizations and groups across Leon County and involve supporters throughout the event. Follow the event page at lunafest.bpwtallahassee.com for updates.
Those interested in volunteering can contact the event lead and volunteer coordinator, Marie Mahovetz, at mmahovetz@gmail.com.
The first 200 attendees who either purchased a ticket online or at the door will receive a free BPW/Tallahassee swag bag.
MEN OF COLOR NATIONAL SUMMIT: CLOSING THE ACHIEVEMENT GAP FOR AFRICAN-AMERICAN AND HISPANIC MALES
Apr. 27–28, 2017
TD Convention Center
Greenville, South Carolina
Summit Themes:
Demystifying higher education and student achievement
Masculinity, identity and media perceptions
Career, personal and professional development
Social justice and engagement
Making the right choices: mentors and role models
Health and wellness, family and fatherhood
Registration Fee:
Two-day summit (includes continental breakfast on Friday and lunch both days)
Early Registration Special: $179
Jan. 31 – Feb. 28, 2017: $249
Mar. 1 – Apr. 15, 2017: $329
$2,000 table: Admission for 10 people on both days of the summit and keynote luncheons on both days

In addition to attendance at the summit and luncheons, purchasing a table will also help to provide support for the 400 members of the summit's high school cohort — Tiger Alliance. Tiger Alliance is a group of ninth, 10th and 11th graders that Clemson University will work to mentor and engage until their high school graduation.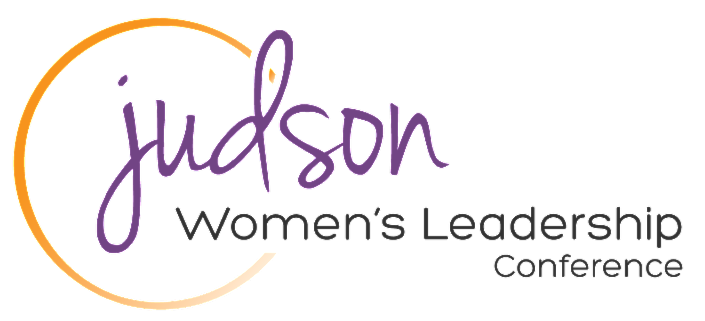 The Judson Women's Leadership Conference will take place on June 20 at the Cobb Galleria Center in Atlanta. Their keynote speaker will be Grace Killelea, a veteran of the telecommunications industry. For more information, please visit the JCI Foundation's website.
---
Scholarships, Internships and Jobs
Backwoods Crossing seeks a farm helper intern for late spring semester. Backwoods Crossing is a restaurant where all cuisine is derived from the farmland the restaurant is located within. Backwoods is working to make the farm to table ideology a literal means of serving customers. The intern would be responsible for performing general farm functions, maintaining records of actions/changes on the property, maintaining the grounds, and assisting with livestock as needed. The intern is expected to work a minimum of 8 hours each week. For more information on this opportunity, search Backwoods Crossing on SeminoleLink. 
Register to attend the SEC & ACC Graduate & Professional Virtual Fair on Feb. 23. This fair is open to alumni and students from SEC & ACC Universities.
Friday, Feb. 24
Generation Green and the Georgia Conservancy present Next South – the largest conference in the Southeast dedicated to inspiring and empowering future leaders seeking careers in sustainability and corporate responsibility. The conference will include a full day of speakers and panels featuring a who's who list of industry luminaries plus a career fair with top companies seeking talent for internship and career opportunities.
CENTER FOR GLOBAL ENGAGEMENT POSITION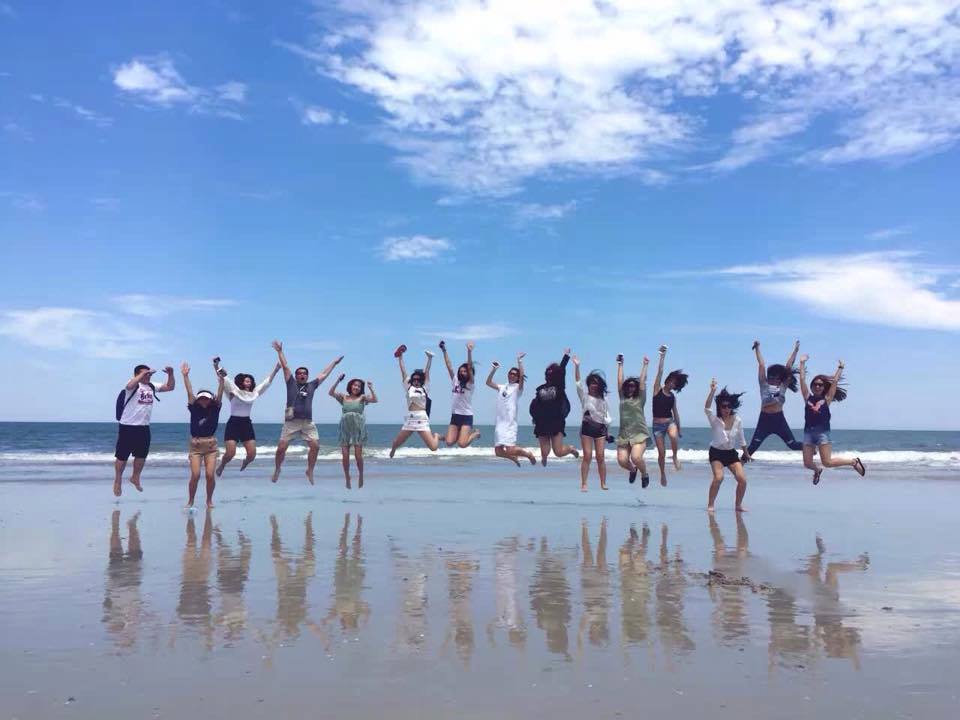 Are you interested in a PAID opportunity this summer to assist international students from Canada, China, Japan, Mexico, and South Korea all while in Tallahassee? The Center for Global Engagement is looking for friendly and motivated students who enjoy meeting people from other cultures to fill two open positions, both of which qualify as a sustained intercultural activity for the Global Citizenship Certificate (GCC).
1. Peer Mentor: Gain cross-cultural experience while assisting international students. Room with students at Ragans Hall, attend breakfast and dinners with students, and help facilitate co-curricular activities. Peer Mentors will be involved in hosting and accommodating these students on the FSU campus, before they head down to the Walt Disney World® Resort for a 6-month internship. These part-time positions pay $9/hour from May 26 – August 2. Room and board are provided.
2. Program Assistant: Provide logistical support for the program while also earning valuable work experience. In order to count towards GCC, this position must also actively participate in breakfasts and cultural dinners with students, provide assistance during a day at the FSU Rez, serve as an interviewee for students, etc. This part-time position pays $10/hour from May 8 – August 30.
If you are interested in receiving more information and an application, please email Kim Kaiser at kmkaiser@fsu.edu. The submission deadline for applications is February 27th, 2017 at 5 p.m.

We are excited to announce that the CGI U 2017 meeting will take place at Northeastern University this fall from Oct. 13-15. Hosted by President Bill Clinton and Chelsea Clinton, the 10th annual CGI U meeting will gather more than 1,000 innovative student leaders to make Commitments to Action that address some of the world's most pressing challenges. More than $750,000 in funding will be available to select CGI U 2017 students to help them turn their ideas into action.
The early decision and travel assistance deadline is March 1, and the final application deadline is May 1. Program details and featured speakers will be announced at a later date.
Students are invited to register for the Florida Student Leadership Forum on Faith & Values on March 10-12, 2017 in Tallahassee. The main feature of the forum will be the opportunity for students to hear from and spend time with leaders from business, government, sports, and the arts. Leaders will discuss their successes and failures, their values, and how they apply their faith to their lives and their work. Previous forum participants include Governor Jeb Bush, Governor Lawton Chiles, Lt. Governor Jeff Kottkamp, Lt. Governor Toni Jennings, Lt. Governor Frank Brogan, State Sen. Tony Hill, Tallahassee Mayor Andrew Gillum, State Representative Tee Holloway, and State Representative Dennis Baxley.  The forum will begin Friday, March 10th, 2017 and will conclude Sunday, March 12th, 2017 at noon. The cost per student is $325 and will include meals, lodging and program fees.
Institute on Philanthropy and Voluntary Service
Washington, D.C.
June 3 – July 28, 2017
The Institute on Philanthropy and Voluntary Service is an eight-week summer academic internship program sponsored by the Fund for American Studies in partnership with George Mason University. The program offers undergraduate students a first-hand look at national nonprofits and service through:
An internship placement at an international, national or local nonprofit organization
Courses for credit in behavioral economics for nonprofits & ethics and leadership
Exclusive lectures, briefings, behind the scene tours & professional development seminars
Campus housing in the heart of Washington, D.C.
Applications are reviewed and accepted on a rolling basis until the final deadline of March 14. Application requirements include a topical essay, statement of purpose, resume, official transcript, letter of recommendation and $25 application fee.
For more information call 202-986-0384 or email mstankus@tfas.org.
Good Sams Art is seeking a voice or piano instructor for beginning to advanced students. Instructors must have previous experience teaching music. An associate's degree in music, music performance, music education, and other related fields is preferred. Instructors should have an understanding of music pedagogy, curricular approaches to teaching music, and a desire to help students of all skill ranges become successful musicians. Instructors must create a schedule based on their flexibility, and must work 4 hours per week at minimum.
Synaptic seeks an undergraduate or graduate intern for the Synaptic 2017 Sales and Marketing Paid Internship Program. Ideal candidates are rising juniors, seniors, or graduates that are enrolled in an entrepreneurship, marketing and advertising, communications, public relations, or business administration and business tech based program. Through the internship students will gain various skills including developing an understanding of the Synaptic's complex sales cycle, gain exposure to brand strategy, analyzing sales and marketing data, and transforming data into ways to improve sales and marketing strategies. The program will run from June to August, and requires that interns work 20-40 hours a week.
The College of Social Work's Arts and Athletics at FSU seeks camp counselors from June 5-9. The camp combines arts and athletics to create activities for students with limited social and economic opportunity. The camp gives students ages 11 to 14 the opportunity to have a glimpse into university life, build confidence, and develop leadership skills. Counselors should be enthusiastic and prepared to lead youth activities. For more information contact head counselor Alex Givens at ag13at@my.fsu.edu.