Weekly roundup Jan. 25
Don't miss out on any of the programs and events offered by the Center for Leadership & Social Change, and find out about volunteer and related opportunities on campus and around the community.
---
Upcoming Center Programs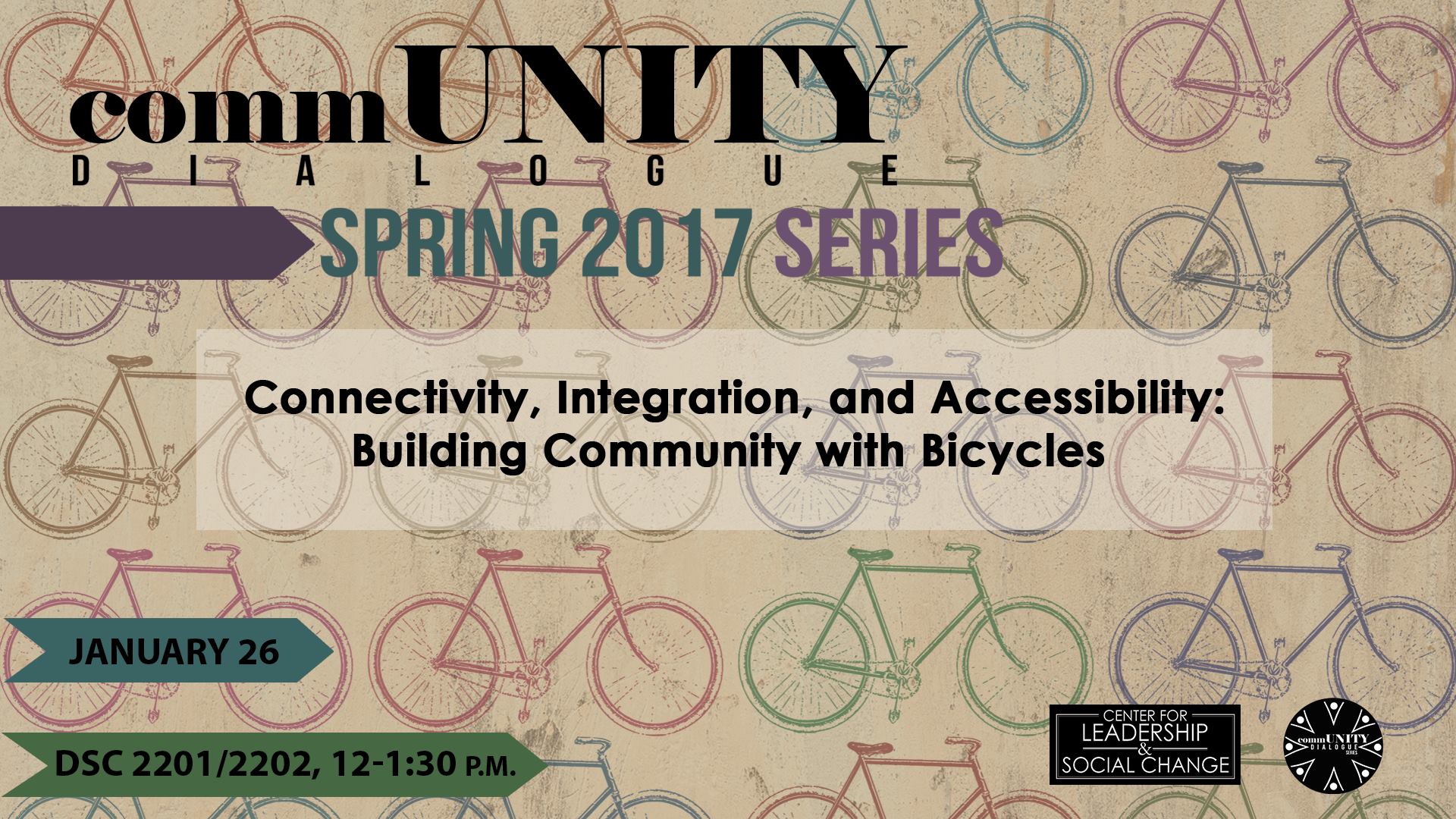 Thursday, Jan. 26, 12 - 1:30 p.m.
DSC 2201/2202
This commUNITY Dialogue Series will facilitate a discussion on bicycles bringing communities closer, how they can connect people to the places they live, and bike equity. Erica Puckett, founder of Joyride Bicycle Collective, will demonstrate how the grassroots effort to build bike culture in Tallahassee is working to create change in the perception of who rides a bicycle, providing an opportunity for more people to choose bicycles as transportation which institutes tremendous health, wellness, and economic benefits in addition to a building a stronger, more connected, resourceful, and resilient community. Erica is joined by Artie White from the Tallahassee-Leon County Planning Department to discuss infrastructure and partnering with the community to build bike culture.
Adventures in Service
Wednesday, Feb. 1, 11:30 a.m.-1 p.m.
DSC 2201/2202
The Center for Leadership & Social Change will host a lunch-and-learn session for students to explore immersive service experiences. Representatives from agencies such as Americorps, FEMA Corps, Peace Corps and Teach for America will be on hand to explain their programs and answer questions.
Email Heather Stitely at hstitely@fsu.edu for more information or to RSVP by Jan. 27 at 5 p.m.

Community ambassadors link local nonprofit agencies with the people, programs, and resources on FSU's campus. Each ambassador works with one local agency for a full academic year, learning the inner workings of that agency. Ambassadors bring knowledge of their agencies to Florida State, connecting campus and community.
Applications for the 2017-2018 academic year are currently being accepted. The deadline to apply is Friday, Feb. 17 by 11:59pm.
Community Outreach Programs
We are looking for new outreach facilitators to serve with the following agencies:
Lichgate Gardens (Wednesdays, 4:30pm-6:00pm)
Boys and Girls Club-Miccosukee Club (Mondays 4:15pm-7:00pm)
Boys and Girls Club-Havana Club (Tuesday or Wednesday, after school hours)
If interested, apply using this link to access the application. The deadline to apply is Friday, Feb. 17 by 11:59pm.
YOUTH PROGRAMS MENTOR TRAINING
Youth Programs will hold training sessions for those interested in becoming mentors from 4-5:30 p.m. on Jan. 23 in DSC 1006 and Jan. 26 in DSC 2201.
Youth Programs makes a wonderful difference in the lives of students in grades K-12 served by Leon County Schools. All mentors gain valuable experiences, including interacting with children, providing a much-needed service in schools and after-school programs, and learning and applying tutoring skills in reading, writing, math and science.
Pre-K Reading Readiness Program
The Spring 2017 Pre-K Reading Readiness Volunteer Program seeks volunteers to help implement a curriculum to prepare students to learn to read. Volunteers will read to students and maintain classroom mentorship roles. They will work for two hours each weeks for no more than ten hours a month. Mandatory training will be held on Feb. 1 at DSC 2201 at 3:30 p.m. For more information, contact coordinator Yolanda Sanders at ysanders@fsu.edu or 850-645-6981.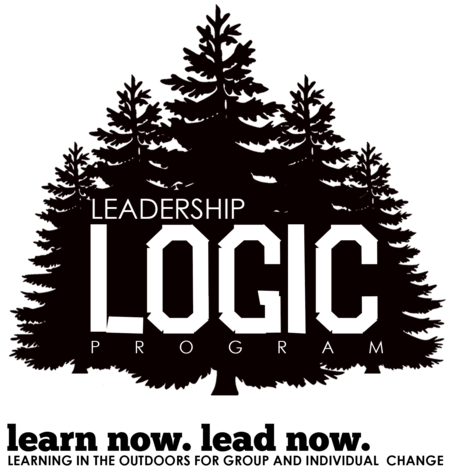 Leadership Learning in the Outdoors for Group and Individual Change, better known as Leadership LOGIC, is a two-day overnight leadership development program at no cost to students. Specifically, LOGIC caters to FSU students who have not participated in a leadership development program before. It is a great way to explore leadership knowledge and skills through individual, small group and large group interactions.
In partnership with Campus Recreation, the overnight program is held at the Rez and makes use of the FSU Challenge Course. Students stay overnight in the cabins on site, all of which are equipped with air conditioning and multiple bathrooms.
LOGIC spring program dates have been announced:
Friday, Feb. 10 – Saturday, Feb. 11
Friday, March 31 – Saturday, April 1
Students should submit an intent to participate by Feb. 2 at 11:59 p.m. for priority consideration for the first LOGIC session. Registration for the second session will become available in March.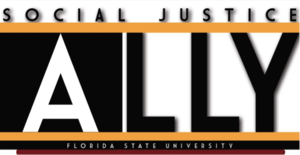 The first Social Justice Ally Training of the semester will be held Feb. 17 & 22 from 1-4:30 p.m.
The mission of the Social Justice Ally Training program is to educate members of the Florida State community about issues related to social justice in order to develop allies who will promote an equitable and inclusive environment and serve as social change agents in a diverse and global society. The program is open to faculty/staff and students. Those who register must be able to attend both days of training.
---
Campus Opportunities
January 25
FSU Alumni Center Grand Ballroom
7-8:30 p.m.
Student leaders and members of FSU's underrepresented populations on campus are invited to meet with employers in this exclusive event, held the night before Seminole Futures in the spring. Register for the event via SeminoleLink.
Living Unconquered Student Conference
Feb. 1
Johnston Building, Ground Floor
4 p.m.-7:30 p.m.
The FSU Living Unconquered Student Conference is a half-day conference for students who wish to actively engage in their personal, academic, and professional growth. The conference consists of workshops aimed at enhancing student development in all areas and equipping students for what lies ahead both at FSU and beyond.
2017 Dalton Institute
Feb. 2-4
How can institutions of higher education navigate the increasing concerns of divisiveness within campus' across the nation? The 2017 Dalton Institute will explore the issues that has arisen through ongoing controversies in broader society and how they are affecting the campus environment. The institute will hold a series of keynote speaker session that highlight some of the various challenges and opportunities that exist in higher education.
For more information on the event schedule, please visit https://studentvalues.fsu.edu.
FRN fights food waste and hunger by recovering extra perishable items from our campus and the surrounding community that would otherwise go to waste and donating it to people in need. Join the team & help with collections around campus!
Email Gabby: gam14@my.fsu.edu
ALPHA PHI OMEGA LAUNCHES BINDER FUNDRAISER
Alpha Phi Omega is proud to announce an ongoing fundraiser to purchase binders for transgender and otherwise gender non-conforming people at Florida State University! We are currently offering options from GC2B and Underworks. Students can complete this form to sign up for a free binder.
The co-ed service fraternity also hosts a table every Monday from 11 a.m.-2 p.m. between the HCB and Union where members accept donations for the project and provide information to people who have questions about trans issues. The chapter's treasurer, Paul Sempe, also accepts donations for the project through Venmo at @TreasurerAPO (include a note indicating its purpose.)
Habits of Happy People
Habits of Happy People is a workshop series that is sponsored by the University Counselor Center's Resiliency Outreach Campaign. The UCC will host a workshop series that offers five workshops for students on a drop-in basis. The workshops will focus on ways students can maintain and increase their strengths to enable them to not just cope with the semester, but also thrive! The Habits of Happy People Workshop Series is designed to help students cultivate what is best within themselves and to enhance their experiences of relationships, work and fun.
Workshops are hosted on Wednesdays from 1:30-2:30 p.m. in the Health and Wellness Center Room 2500.
Feb. 8: "What's Your Strong Suit?: Discovering Your Signature Strengths"
Feb. 15: "Count Your Blessings: The Power of Gratitude"
Feb. 22: "Live with Purpose: Finding Meaning in Everyday Life"
March 1: "Take a Breath: Using Yoga and Mindfulness to Savor the Now"
March 8: "Laugh Hard, Play Hard: Rediscovering the Benefits of Humor and Play"
---
Community Opportunities
Volunteer Income Tax Assistance (VITA)
The Volunteer Income Tax Assistance program trains volunteers to prepare free tax returns for low-income residents. Anyone interested in volunteering can contact the site coordinator in the UF/IFAS extension office at kav13b@my.fsu.edu or stop by the office at 615 Paul Russell Road, Tallahassee. No experience is needed, and hours are flexible.
Florida State University Lab School (Florida High) is having its second annual STEAM Day (Science, Technology, Engineering, Art and Math) on February 23, 2017.  They are encouraging agencies, community groups, businesses, individuals and artists of all disciplines to come share and/or demonstrate to students in kindergarten through 12th grade real world applications of STEAM. More info here.
Contact Angelyn Hirai at arh02d@fsu.edu or 850-245-3842 by Jan. 31.
FCAT Tutoring
Communities In Schools of Florida in collaboration with Volunteer Florida and Leon County Schools Volunteer Office is seeking community volunteers to help at-risk students with FCAT tutoring and preparation in small group settings (2 – 3 students) at identified schools in and around Tallahassee.
The project requires volunteers to commit to tutoring one hour for two to three days per week, starting now through the FCAT season. Volunteers will be recruited from the community, local colleges and organizations.
For more information, contact Mary Matthews, program services coordinator for Communities In Schools of Florida at 850-201-9765 or matthewsm@cisfl.org.
Autism Speaks U at Florida State
Autism Speaks U at FSU seeks volunteers for this year's Autism Awareness Walk on Sunday, Apr. 2 from 11 a.m. to 2 p.m. Organizations are invited to volunteer with set-up, clean-up, or helping throughout the event.
For more information contact volunteer coordinator Caroline Hannon, at csh14@my.fsu.edu or visit Autism Speaks U- Florida State University on Facebook.  
---
Scholarships, Internships and Jobs
Thursday, Jan. 26
Donald L. Tucker Civic Center
9 a.m. - 12 p.m. and 1 p.m. - 4 p.m.
Meet with 150+ recruiters from corporate, non-profit, and government organizations around the country to discuss a broad range of internship and full-time job opportunities.
Oasis Center for Women & Girls seeks a part-time babysitter ensure the safe care and supervision of children 12 years or younger. Babysitters must have previous experience working with children. Applicants should have strong interpersonal skills, initiative, and the ability to adapt in a fast-paced atmosphere. For more information on the position and to apply, visit http://www.theoasiscenter.net/.
Department of State seeks interns
The Department of State are seeking diverse, culturally aware, adaptable, well-rounded and strategic problem solvers for an internship in foreign policy. Through this opportunity, interns will gain insight into U.S. foreign policy and diplomacy, explore new career avenues, and acquire lifelong skills.
For questions and more information please contact Amy Radetsky at DIRSoutheast@state.gov.
Other internships for the U.S. Department of State include:
Alliance for Girls seeks public relations intern
Alliance for Girls champions the leaders and voices that support girls and young women. Its mission is to ensure girls' organizations are more connected, more effective and better able to prepare girls to become leaders and thriving women. We do this by training girl­-serving agencies, fostering collaboration, producing original research and using a collective voice to advocate on behalf of girls. Currently, AFG has 150 members including Planned Parenthood and Girls Incorporated.
The public relations intern will work on projects to strengthen AFG's communications and community engagement by maintaining AFG's social media and website, attending events, promoting the work of its members, and keeping a pulse on current trends and issues affecting girls and young women.
If you're passionate about girls and young women, apply by sending your cover letter and resume to kailin@alliance4girls.org.
Institute on Philanthropy and Voluntary Service
Washington, D.C.
June 3 – July 28, 2017
The Institute on Philanthropy and Voluntary Service is an eight-week summer academic internship program sponsored by the Fund for American Studies in partnership with George Mason University. The program offers undergraduate students a first-hand look at national nonprofits and service through:
An internship placement at an international, national or local nonprofit organization
Courses for credit in behavioral economics for nonprofits & ethics and leadership
Exclusive lectures, briefings, behind the scene tours & professional development seminars
Campus housing in the heart of Washington, D.C.
Students should apply by Feb. 8 for priority admissions and scholarship consideration. Applications are reviewed and accepted on a rolling basis until the final deadline of March 14. Application requirements include a topical essay, statement of purpose, resume, official transcript, letter of recommendation and $25 application fee.
For more information call 202-986-0384 or email mstankus@tfas.org.
Friday, Feb. 24
Generation Green and the Georgia Conservancy present Next South – the largest conference in the Southeast dedicated to inspiring and empowering future leaders seeking careers in sustainability and corporate responsibility. The conference will include a full day of speakers and panels featuring a who's who list of industry luminaries plus a career fair with top companies seeking talent for internship and career opportunities.