Weekly Roundup - April 17
---
Weekly Roundup - April 17
Celebrate Diversity and Inclusion Week, participate in end-of-the-semester sustainability efforts, apply for summer volunteer opportunities, or explore a new interest in this week's roundup of Center, campus, and community opportunities.
---
Upcoming Center Programs
Join Leadership LOGIC's Planning Team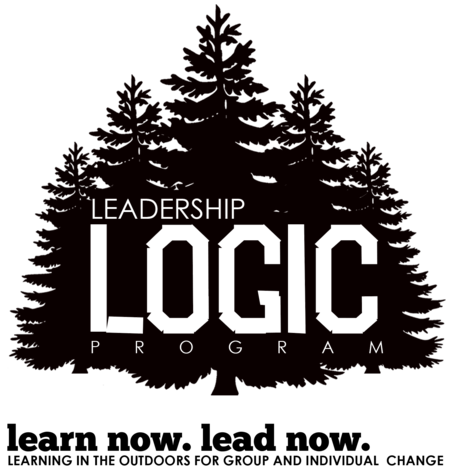 Leadership Learning in the Outdoors for Group and Individual Change, better known as Leadership LOGIC, is a two-day overnight leadership development program at no cost to students. Specifically, LOGIC caters to FSU students who have not participated in a leadership development program before. It is a great way to explore leadership knowledge and skills through individual, small group and large group interactions. In partnership with Campus Recreation, the overnight program is held at the Rez and makes use of the FSU Challenge Course. Students stay overnight in the cabins on site, all of which are equipped with air conditioning and multiple bathrooms.
The Leadership LOGIC Planning Team is comprised of a group of student facilitators and a student coordinator. Applications for both roles are live now. Experience with Leadership LOGIC is not necessary to apply. The deadline to submit an application is Friday, April 19th at 11:59 p.m.
WLI Student Coordinator Applications Open

The Women's Leadership Institute is seeking out undergraduate students who can provide student insight and enthusiasm to the planning committee.
Student coordinators are crucial for making the annual Women's Leadership Institute as relevant and powerful as possible and creating a meaningful experience for participants. We are looking for a diverse group of women who can contribute different skills to an enriching learning environment. The term for the position is Summer 2019 through Fall 2019 which includes bi-weekly meetings, as well as full attendance of the Institute as a committee member on October 18th - 20th, 2019.
In this role you will have the opportunity to gain hands-on event planning experience, develop transferable professional skills, and build community with women across the FSU community. This is a fantastic experience for continued growth and exploration on what it means to be a woman and a leader. Experience with the Women's Leadership Institute is not necessary to apply. 
The deadline to submit an application is Friday, April 19 at 11:59 p.m.
Volunteer on Engage TLH Trips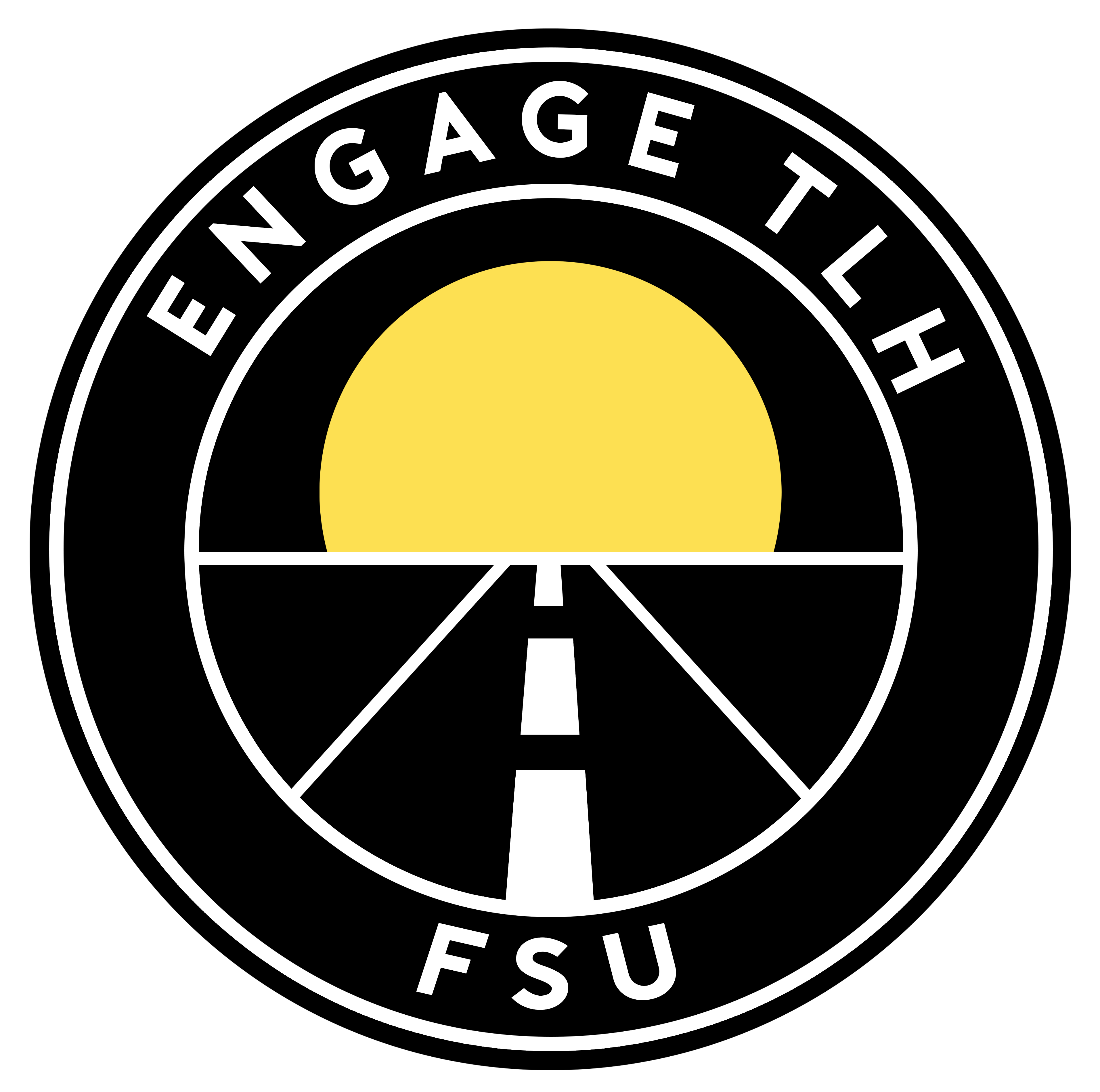 EngageTLH allows students to get involved in regular or one-time service in the Tallahassee community, with different projects to choose from almost daily. EngageTLH service projects are offered at a variety of non-profit agencies at different days and times each week. Participants can sign up online to go on a service trip with EngageTLH as early as one week in advance and up to the day before the project. Space is limited, and the center provides transportation to and from the service site.
---
Campus Opportunities
Celebrate Diversity and Inclusion Week

Diversity & Inclusion Week is a new recognition initiative for campus with the objective of acknowledging a few highlights of diversity and inclusion FSU has in its faculty, staff, and student community. This initiative allows people to share who they are and the richness they bring to the FSU community. While we want to acknowledge and honor their multiple identities, this initiative is about action, asking various departments across FSU: Who in your environment most clearly strives for diversity and inclusivity?
Highlights and honorees for the day will be revealed at thecenter.fsu.edu/DIweek.
Monday, April 15: Environment 
Celebrating Sustainable Campus, Urban & Regional Planning, and Facilities
Tuesday, April 16: STEAM
Celebrating the College of Medicine, Innovation Hub, FSU-FAMU College of Engineering, Department of Architecture and Interior Design, Department of Mathematics, Computer Science Department, and English Department
Wednesday, April 17: Multiculturalism
Celebrating student activities and identities in addition to FSU Community and local Tallahassee talent
Please support and attend Market Wednesday.
Thursday, April 18: Human Rights
Celebrating the Center for Global Engagement, Sociology Department, and Department of Social Work
Genocide Prevention: A Talk with Eugenie Mukeshimana
4:30 p.m. to 6:30 p.m. in the Global and Multicultural Engagement Building (GME), Auditorium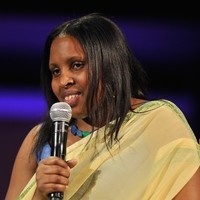 Eugenie Mukeshimana is the Founder and Executive Director of Genocide Survivors Support Network, an organization which helps survivors rebuild their lives and advocates for genocide prevention through education.
Ms. Mukeshimana's talk will focus on her personal experiences during the 1994 Genocide Against the Tutsis in Rwanda as well as the impact it continues to have on survivors 25 years later. She currently serves on UNHCR, the UN Refugee Agency's Refugee Congress, as an honorary delegate representing the State of Maryland.
This event is open to the public. 
Join us for a reception with refreshments at 4:30 p.m. The talk will begin at 5 p.m.
Friday, APril 19: LGBTQ+ 
Celebrating Allies & Safe Zones, CHAW, and the Counseling Center
The National Day of Silence Project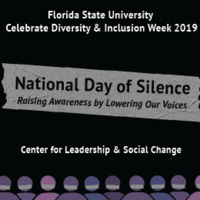 The National Day of Silence Project draws attention to those who have been silenced by bullying, harassment, hatred, oppression, and prejudice, particularly those who identify as LGBTQ+. If you would like to participate in the Day of Silence, email Shane Whittington at swhittington@fsu.edu.
SATURDAY, APRIL 20: ARTS
Celebrating the Film School and The Arts Department
An Evening with Oscar Nominee RaMell Ross
Doors 4:30PM | Screening 5:30PM
Student Life Cinema | Florida State University Askew Student Life Center | 942 Learning Way, Tallahassee, FL 32306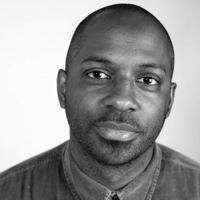 See RaMell Ross' Oscar-nominated film, Hale County This Morning, This Evening on the big screen, followed by a panel discussion Q&A with the filmmaker and a reception. One of the year's most critically acclaimed films, this dreamy and intimate journey through the world of Hale County, Alabama, is a richly detailed glimpse into life in America's Black Belt.
Full of sublime moments, the film immerses the viewer in the southern black American experience in a place where Walker Evans and James Agee once chronicled the lives of poor white sharecropping families in Let Us Now Praise Famous Men in the 1930s, but today is an oft-misunderstood African American community. The film is "pure cinematic poetry" wrote A.O. Scott in The New York Times. This event is free to the public.
Student Service in Sustainability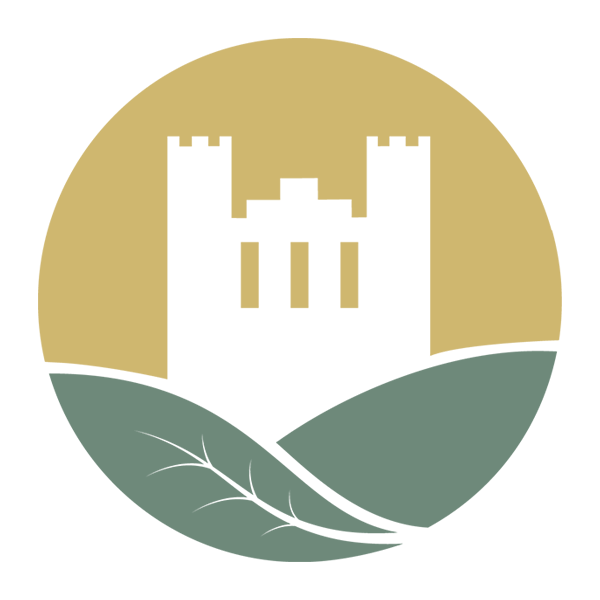 Florida State University's Sustainable Campus works to educate and engage students, staff, and faculty to set an example of campus sustainability and position FSU as a leader of environmental and social action. They provide various programs for students to become involved and give back to the community.
Among these programs, Garnet & Gold Goes Green (G4) provides an opportunity for students to gain community service hours by providing fans with the opportunity to recycle their cups, bottles and cans with the intention of keeping Doak Campbell Stadium beautiful and promoting eco-conscious behavior. 
Chuck It For Charity Seeks Volunteers
Chuck It is FSU's student move-out collection program where they collect all the stuff left behind in the residence halls and donate it to community organizations in support of their work and the people they help. Volunteers are needed to help with collection and sorting. The collection period will be Wednesday, May 1 through Saturday, May 4. Volunteers can join for a shift or two during this period, even if only for a few hours.
SEMINOLE ORGANIC GARDEN WORKDAYS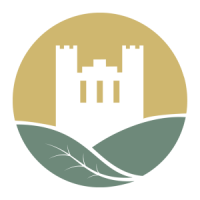 Sustainable campus wants to help you learn the ins and outs of gardening! Growing your own food using sustainable methods lowers your carbon footprint significantly, and you get to eat healthy, organic produce. Get involved by coming to their bi-weekly workdays.
Workdays:
Every Monday 12:00 p.m. - 2:00 p.m.
Every Thursday 3:00 p.m. - 5:00 p.m.
Food Recovery Network Spring Schedule
The Food Recovery Network at FSU fights food waste and hunger by recovering perishable items and donating it to people in need. FRN will be recovering food from Figg Dining Hall every Monday-Thursday from 7:30 - 8:30 p.m. Students interested in volunteering with FRN should sign-up for the dates and times they are available. 
---
Community Opportunities
Camp PALS Seeks Summer Volunteers
PALS Programs is a nonprofit organization that provides one week-long summer camp opportunities for teens and young adults with down syndrome and their peers at 14 college campuses across the country, including PALS North Carolina and PALS Baltimore. They are currently searching for male volunteers 16-30 years old who are welcoming, genuine, passionate, supportive, and fun to help staff their programs this summer. Volunteer counselors are paired one-to-one with a camper to provide an opportunity to build meaningful friendships through trips and activities. No experience with the down syndrome or the disability community necessary.
Camp Boggy Creek Seeks summer volunteers
Camp Boggy Creek is open year-round and utilizes nearly 1,800 volunteers per year to accomplish its mission to foster a spirit of joy by creating a free, safe and medically-sound camp environment that enriches the lives of children with serious illnesses and their families. Volunteers are needed to assist with summer camp sessions, scheduled below.
May 31- June 6 North Florida Cancer session
June 9-15 Heart session
June 18-24 Bleeding Disorders/JRA session
June 27 – July 3 Epilepsy session
July 7-13 GI/Immunology/JRA session
July 16-22 South Florida Cancer session
July 25 – 31 Sickle Cell
August 3-9 Asthma/Craniofacial/Kidney/Spina Bifida/Transplant
volunteer tutors wanted at southside learning center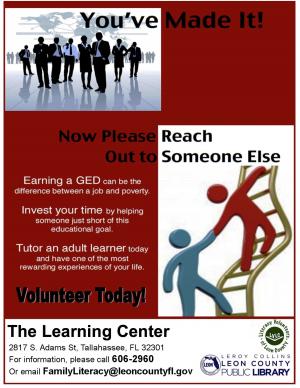 The Southside Learning Center at the B.L. Perry, Jr. Branch Library is looking for volunteers serve as both individual and group instructors for patrons in need of help with their basic literacy skills (reading, writing), preparing for standardized tests (GED, SAT, ACT, professional certification, etc), improving their computer skills, or developing their job skills (resume writing, completing online job applications, improving interviewing skills, etc). For more information, call (850) 606-2960 or email FamilyLiteracy@leoncountyfl.gov.
join bike and build on a trip to address affordable housing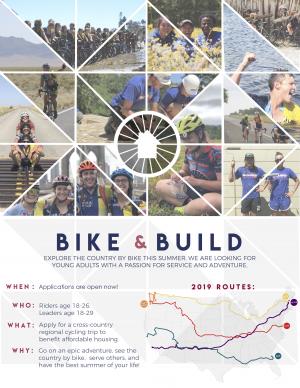 Bike & Build still has spots available on all of their 2019 cross country cycling trips that benefit affordable housing. The trips take place in the summer and volunteers raise money and bike across the country while educating communities about the issue of affordable housing and stopping to work hands-on on affordable build sites. Prior to the trip, riders will engage in curriculum in which they learn about current issues regarding affordable housing and speak with affected members of their communities, enabling them to engage with others they meet on their trip and beyond.
Volunteer with School Garden Club
The Hartsfield Garden Club seeks student volunteers every Thursday from 4:15 to 5:30 p.m. at Hartsfield Elementary. Volunteers will join a team that is working with students in 3rd, 4th, and 5th grade to help them plan, plant, weed, water, harvest the school gardens. Volunteers will also keep a journal and start a blog about the Hartsfield Gardens. For more information on volunteering contact Marie-Claire Leman at 850-728-7514 or marieclaireleman@gmail.com.
Special Olympics Florida seeks Volunteers
Special Olympics Florida and FSU Outreach are seeking student volunteers for weekly and single event positions. Special Olympics Florida provides year-round sports training and competition in a variety of Olympic-type sports for people with intellectual disabilities who wish to participate. This helps people with intellectual disabilities participate as productive and respected members of society at large, by offering them a fair opportunity to develop and demonstrate their skills and talents through sports training and competition, and by increasing the public's awareness of their capabilities and needs. Any student interested in volunteering should contact County Director for Special Olympics Florida-Leon County Bridget Hawk at 850-597-9265 or bridgethawk@sofl.org.
---
Scholarships, Jobs, and Internships
Newman Civic Fellowship
The Newman Civic Fellowship recognizes and supports community-committed students who are changemakers and public problem-solvers at Campus Compact member institutions. Fellows are nominated by their president or chancellor on the basis of their potential for public leadership.
Through the fellowship, Campus Compact provides students with training and resources that nurture their assets and passions and help them develop strategies for social change. The yearlong program, named for Campus Compact founder Frank Newman, includes virtual learning opportunities and networking as part of a national network of engaged student leaders and an optional in-person convening.
J.M.K. Innovation Prize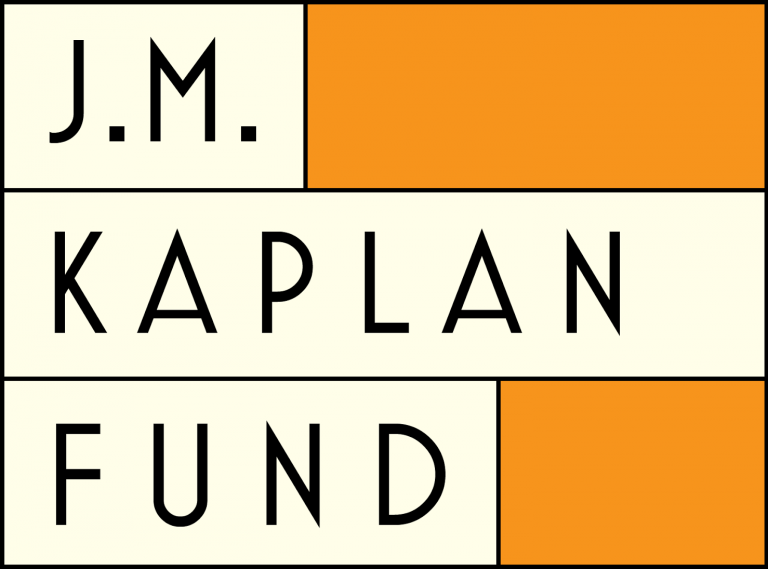 The J.M.K. Innovation Prize seeks out innovators who are spearheading transformative early-stage projects in the fields of the environment, heritage conservation, and social justice. The J.M.K. Innovation Prize is open to non-profit and mission-driven for-profit organizations that are tackling America's most pressing challenges through social innovation.
Through the prize program, grants of up to $175,000 over three years will be awarded to ten early-stage innovators helming creative projects that stand to benefit numerous individuals, communities, and/or sectors. In addition to funding, the award includes significant in-kind support, including mentoring, community-driven learning experiences, media training, and resources for board/organizational development. Application for the prize is a two-step process, with initial applications due by April 30, 2019. Applicants selected to move forward will be asked to submit additional information in the late spring, with finalists invited to present their ideas in person to the fund's trustees in the fall. Awardees will be announced in November 2019.
Internship Opportunity with Impact & Environment Florida

Impact is hiring interns to work on Environment Florida's 100% Tallahassee campaign for the Spring 2019 semester. The internship is a part-time (10-20 hours a week), unpaid position in Tallahassee across three college campuses. For a place that's called the Sunshine State, it's disappointing that so little of our energy needs are met by renewable sources like solar energy. Our health, our climate, and the beautiful places we love are all at risk because of our continued dependence on oil, gas, and coal. That's why Impact is working with Environment Florida to get local commitments towards a cleaner, greener future with the 100% Tallahassee campaign. 100% Tallahassee aims to get commitments from Florida State University, Tallahassee Community College, Florida A&M University, and the city of Tallahassee to commit to running on 100% renewable energy by 2050. Impact interns will take part in campaign organizing to educate the public on the importance of transitioning to clean energy, gain media attention for the campaign, engage stakeholders in the issue, and ultimately get concrete commitments.
Grassroots Intern: Grassroots organizing is the main tactic for this campaign. Intern responsibilities will include recruiting volunteers to collect petitions, educating fellow students faculty, and alumni about the campaign, and ensuring that campaign events are well-attended and run smoothly.

Media and Journalism Intern: The Media and Journalism Intern will help the campaign get earned and opinion media attention. This includes writing and submitting Letters to the Editor, co-authoring an Op-Ed, creating written social media content, and reaching out to local media to cover our campaign events.

Communications and Graphic Design Intern: The Communications and Graphic Design Intern will assist with creating engaging visuals for the campaign, and keeping volunteers and coalition partners up-to-date with the campaign. This includes designing e-newsletters, flyers for recruitment, campaign stickers and apparel, and props for photo petitions or events.

Partnerships Intern: The Partnerships Intern will assist in having student organizations, local businesses, and elected officials to partner on the 100% Tallahassee campaign. This includes meeting with organizations, finding keynote speakers for events, and having them join a sign-on letter in support of the campaign.
Knight Foundation Seeks Summer Interns
The John S. and James L. Knight Foundation is mission driven and results oriented, established by its founders to support informed and engaged communities. They value innovation and initiative, teamwork and transparency, all toward achieving positive impact and progress in their field of work. They take their core beliefs from the life and work of the Knight brothers and express them this way:
We believe in freedom of expression and in the values expressed in the First Amendment to the Constitution of the United States.
We believe that quality information is essential for individuals and communities to make their own best choices, and that journalism plays a critical role in that democratic process.
We believe in equitable, inclusive and participatory communities.
The Knight Foundation is seeking paid summer interns with vision, tenacity, courage, know-how and a commitment to discovery who will tackle substantive projects in journalism, media technology, arts, civic engagement or administration. Selected interns will spend 10 weeks (typically June 3 to Aug. 9) in Miami, with a select opportunity available within our communities and national initiatives program in one of our other resident communities, in Akron, Ohio. Note that the Knight Foundation cannot pay for housing or relocation costs related to the internship placement. Submit your resume or C.V. and a cover letter, not to exceed two pages, to internship@knightfoundation.org.
Blue Mission seeks volunteers
BLUE Missions is a non-profit organization dedicated to connecting families in rural communities with access to clean water and sanitation. They facilitate service trips for student and non-student volunteers where they live and work alongside locals to help in the construction of various projects in the Dominican Republic. Applications are open for spring break and summer trips. Each volunteer must commit to fundraising a $500 Community Contribution Fee requirement, and will be charged the remaining balance if the volunteer raises less than the $500 amount. Transportation, food, leadership, accommodations, travel insurance, and airfare are included in the overall price for the trip. For more information on application requirements, application due dates, trip times, and cost breakdowns visit the link below.
Careers in Community Organizing for Social Justice
The Direct Action & Research Training (DART) Center hires and trains organizers to build organizations that have successfully addressed issues including:
Plugging the school-to-prison pipeline
Reining in predatory lending practices
Expanding access to primary health and dental care
Prioritizing funding for affordable housing and job training
Fighting for immigrants' rights
Police accountability
Florida positions start Aug. 12, 2019 in St. Petersburg, Tampa, West Palm Beach, Jacksonville, Daytona Beach and Fort Myers.
Starting salary $38,000/year plus benefits.
Although it may be helpful, no prior organizing experience is necessary. Fluent Spanish speakers are encouraged to apply.
To find out more about DART or to apply, visit www.thedartcenter.org. Still have questions? Contact Hannah Wittmer at hannah@thedartcenter.org or (202) 841-0353.